Magnus Racing Hopeful To Race at Petit Le Mans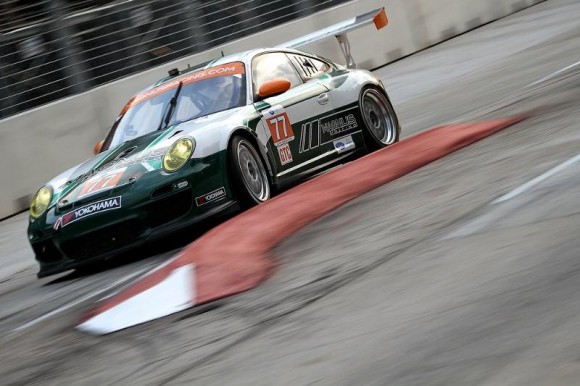 The Magnus Racing truck and trailer is at Road Atlanta, the team has participated in the first official practice of the week, and hopefully it's no.77 Magnus Racing Porsche 911 GT3 Cup will be able to compete in this year's Petit Le Mans.
Following in the grand tradition of other Porsche racing teams that routinely make grand announcements about nothing, John Potter is thrilled to, possibly, be racing for the second time in the Petit Le Mans – the season finale for the American Le Mans Series, which has quickly become a worldwide endurance racing classic.
Although the team had originally planned to compete in the ten hour / 1000-mile Petit Le Mans at Road Atlanta in Braselton, Georgia, the participation of GT-C class cars has been limited due to the number of cars entered as part of the Intercontinental Le Mans Cup. Teams competing in the ILMC have priority entry for Petit Le Mans, meaning several GT-C class cars will be on the outside looking in.
Potter's Magnus Racing team will take part in practice throughout the week, but if the team is unable to race in Petit Le Mans – in which it finished third in 2010 with Andrew Davis and Ryan Eversley joining Potter – Potter will instead take part in the IMSA GT3 Challenge races that weekend. Potter and teammate Craig Stanton have earned podium results at ALMS races in Long Beach, Mid-Ohio, and Baltimore so far in 2011.
"It is great to be able to sit here and tell everyone that, if we're lucky, we might be racing in the Petit Le Mans next weekend," said Potter, from Magnus Racing's shop at Miller Motorsports Park. "We have grand plans to show up and improve our result from last year's Petit Le Mans. Craig and I and, well- someone else, are aiming to be on the top step of the podium and continue to demonstrate Magnus Racing's ability in endurance races. But if we can't do that, I can guarantee we will at least race in the GT3 Challenge race."
The team would also like to introduce its third driver, who will join Potter and Stanton at Petit Le Mans. Except it can't. That will have to wait until the team knows for sure if it will be able to take the green flag at Petit Le Mans.
"Trust me when I say that our third driver, who may join us if we are able to compete in Petit Le Mans, is a phenomenal talent that will help get our Magnus Racing Porsche on the podium," said Potter. "We have had a great time racing in the ALMS this season, and are enjoying the possibility of racing in one more ALMS race this year."
Stanton, who has one victory at Petit Le Mans on his resume, was also looking forward to this year's Petit Le Mans.
"When I found out we might not be able to compete in Petit Le Mans, it was kind of upsetting," said Stanton. "If I had known sooner, I would have put my bicycle in the trailer so I could go mountain biking around Road Atlanta. Now I have to figure out another way to get it to Atlanta. But hopefully I won't need it. Petit Le Mans is a phenomenal event; I am really thrilled about maybe competing in this year's race with Magnus Racing."
If Magnus Racing is able to take part in Petit Le Mans, fans of the team can watch the entire event live on Saturday, October 1, at 11:15 AM on WatchESPN.com, with a television broadcast the next day, October 2, at 4:00 PM ET on ABC.  Fans can also follow the team throughout the race weekend on Facebook (facebook.com/magnusracing) and on twitter (@magnusracing).
Source: Magnus Racing