MacNeil, Keen and Von Moltke Ready for Petit LeMans in WeatherTech Porsche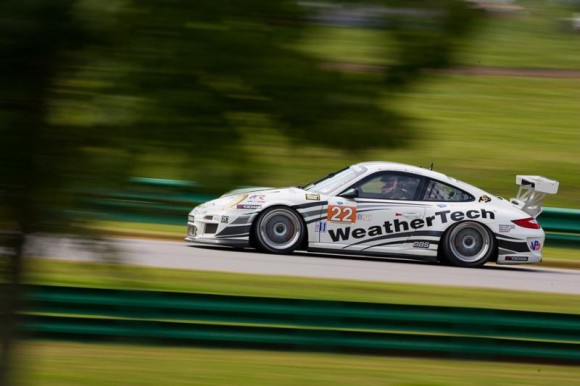 Cooper MacNeil, Leh Keen and Dion von Moltke are ready to carry the momentum of the season into the American Le Mans Series (ALMS) season finale Petit Le Mans powered by Mazda at Road Atlanta, Oct. 17-20.
MacNeil (Hindsdale, IL), crowned the ALMS GTC Driver Champion at Virginia International Raceway last month, and Keen (Charleston, SC) are hoping that von Moltke (South Africa) can bring the winning touch from the first race at Sebring into the seat of Alex Job Racing No. 22 WeatherTech Porsche.
"Even though we have clinched the GTC Championship, we are still going to do everything we can to win Petit and to keep Leh second in the points, MacNeil said. "I need to redeem myself from the incident at Sebring. I haven't been to Road Atlanta in a couple of years, but the slow corners before the long straights are the most important for setup on our WeatherTech Porsche."
MacNeil took part in the Porsche Young Driver Academy at Barber Motorsport Park in between races. The two-day program, which included classroom testing and instruction, personality evaluation, media training and multiple driving activities are used to evaluate young driving talent.
"I feel I performed really well at the Porsche Young Driver Academy. I gave it everything I had and that's all you can ask. I want to thank Jens Walther and Patrick Long, really all of PMNA (Porsche Motorsports North America) and PCNA (Porsche Cars North America) for the amazing opportunity."
Keen is poised to win his home race and clinch second in the GTC driver's standings. "Growing up in Georgia, there is nothing I want more than to win my home race," Keen said. "Petit is one of the biggest races of the year for sports car racing all over the world. Last year, we were poised for the win when a late race incident with a GT car cost us the victory, and we had to settle for second. Now with the championship locked up, we are showing up to Road Atlanta for one reason only – to win. I am shooting for second in the championship, so a win will secure that. To get the win, we will need to stay clean and run our own race at a quick pace the first eight hours. Then turn it up when the sun starts going down to get the win. A comfortable car for the long race is important. But balance through the Esses and down Turn 12 is critical. The Weathertech Porsche always feels good out on the track and should look good in victory lane. The most important part is to be there at the end of the race in a position to take the top step on the podium."
Von Moltke, winner of the Sebring 12 hours in an AJR Porsche in March, likes the Road Atlanta circuit. "There are not many tracks in the world that really just flow as nicely as Road Atlanta," von Moltke said. "The track really allows the driver to get into a rhythm, which is so enjoyable. It is also one of the most challenging tracks in the world. It is really key that the car and driver are really one throughout this race, because if you do not have confidence in the car around this track, you can lose a ton of time. The traffic during the Petit Le Mans race is like nothing else, and the race usually comes down to the team that can work their way through the traffic the best. I could not be more thankful to Cooper and Leh for choosing me to come in and drive with them. Cooper has done an amazing job all year long and absolutely deserved to clinch the championship. I have been driving against Leh all year. I have a lot of respect for him. It will be nice to call him a teammate and have him on my side rather than battling against him! We won at Sebring, and I want to bookend the season with wins with AJR, this time in the WeatherTech Porsche."
Alex Job, team owner, is keeping his team motivated for the Petit finale. "Even though we have already won the championship, we still want to win Petit," Job said. "Cooper, Leh and Dion are ready to race. Dion won Sebring. Cooper and Leh came second. I think that the natural motivation for three young guys to win Petit Le Mans will overcome any complacency that may have crept in from being crowned GTC champions at VIR. Leh wants to win his home race and finish off the season second in GTC points, and Dion wants to bookend the ALMS schedule with wins."
Petit Le Mans Powered by Mazda live qualifying can be viewed Oct. 19 at 2:25 p.m. EDT on ESPN3.com, the live streaming of the race can be seen Oct. 20 beginning at 11:15 a.m. EDT on ESPN3.com with the race broadcast on ABC running on Oct. 21 starting at 1:00 p.m. EDT.
Source: Alex Job Racing