MacNeil and Bleekemolen Win GTC in WeatherTech Porsche at Road America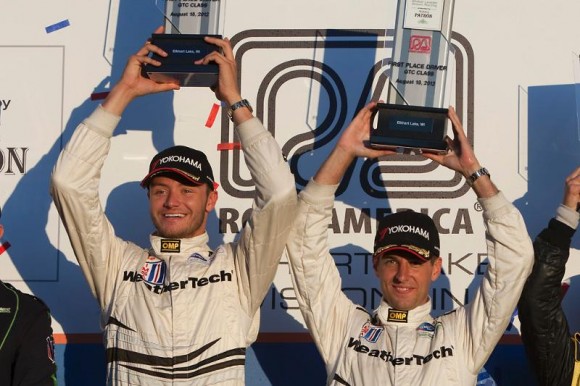 Alex Job Racing's (AJR) Cooper MacNeil and Jeroen Bleekemolen won the GTC Class in today's running of the American Le Mans Series Road America Road Race Showcase at Elkhart Lake's Road America.
MacNeil (Hinsdale, ILL) started the No. 22 WeatherTech Racing Porsche from the pole position in GTC. The University of Colorado student did a very strong, and long, stint to keep the white and black Porsche at the front of a very tough GTC field. Turning over to Bleekemolen (Monte Carlo) the Dutchman was never really stressed during his stint. The team would be put back based upon pit stops and then when the stops cycled through the WeatherTech Porsche would be on top. The win extends MacNeil's points lead in the GTC Championship chase.
"There is really no better place to win our second race than here at Road America," MacNeil said. "My goal for the stint was to keep the car in one piece so Jeroen could go out and do his thing. That's what we did. The car was great. I had no issues. My run was pretty drama free. We extended our lead in the points even more heading into a tough street course in Baltimore."
Bleekemolen celebrated a perfect weekend with the pole and the win. "The whole race was pretty much perfect," Bleekemolen said. "We didn't make any mistakes on the track. Cooper put in a really great stint. The guys did perfect pit stops, and we had good strategy. It got exciting because of the yellows, if not, we would have had a gap on the rest. The car ran good. It was a little hard in the middle of the race, but at the end the car came back and was perfect."
Alex Job, team owner, had a near-perfect day with the WeatherTech team. "Cooper and Jeroen did not put a wheel wrong all weekend," Job said. "We had good pit stops and good strategy and Cooper and Jeroen put in very solid drives. Cooper has a lot of laps at this track and Jeroen has won here now three times, so a real nice race weekend for us. Also it is a nice win for WeatherTech as they are big sponsor here at Road America."
The television broadcast of the Road America Road Race Showcase will be shown Aug. 19 starting at 2:00 p.m. EST on ESPN 2.
The team will travel to Baltimore for the Baltimore Grand Prix presented by SRT, Aug. 31-1 through the streets of the Inner Harbor and Camden Yards.
Source: Alex Job Racing