Luxury Lifestyle: Porsche Design Tower Miami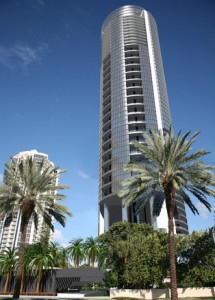 If you are a car enthusiast, what better way is there to display your trophy but in the middle of your living room- 50 Stories up?
Last November, the announcement was made that Porsche Design was to collaborates on a car-centric high-rise building in Miami.
The tower is the first ever complex to have elevators to accommodate owner's cars. Instead of a basement carpark, the tower will have three circular platforms that rotate around the core of the cylinder-shaped building. A total of three elevators ensure that residents and their cars are pulled into the elevator and the cars are parked on the designated floor.
The elevators are designed in such a way that it brings together the technology of a robotic arm and an elevator and has put the two together. "You don't have to leave your car until you are in front of your apartment," Juergen Gessler, chief executive of the Germany-based Porsche Design Group, told The Miami Herald. The feature will make the tower the first of its kind in the world.
A new video animation has been released that shows exactly how the car parking system works. The video also includes a rendering of the luxury lifestyle appartments and building amenities that are being offered for sale.
Source: Porsche Tower Miami