Long Takes Pirelli World Challenge Season Opener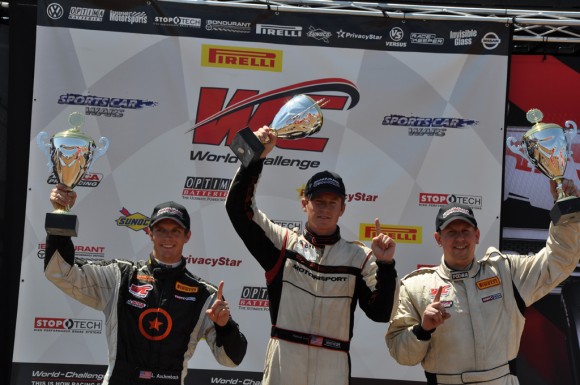 St. Petersburg, FLA. –  March 26, 2011 - "Exciting." That was the word that overall and GT class winner Patrick Long, from Belleair, Fla., GTS class winner Jason von Kluge, from Ann Arbor, Mich., and Touring Car winner Lawson Aschenbach, from Darnestown, Md., each used to describe Saturday's Acura Sports Car Challenge Presented by Pirelli, featuring 49 Pirelli World Challenge Championship cars battling on the temporary street circuit in St. Petersburg. The season-opening race was part of the Honda Grand Prix of St. Petersburg. 
Long, an accomplished sports car racing veteran but making just his second career World Challenge start, started on the pole in his No. 45 TruSpeed/Privacy Star/Entrust Porsche 911 GT3 and battled early in the race with defending GT class champion, and early leader,Randy Pobst, Mike Skeen and James Sofronas.
The four used the early part of the race to get a feel for the race and the crowded race track that featured all three Pirelli World Challenge classes running on Pirelli slick tires for the first time, a dramatic change from the treaded DOT-approved tires the series traditionally used. The intensity picked up for the front runners after race's only full-course caution flew on lap seven for two separate incidents – a single car accident that ended the day for 15-year-old Alec Udell in the GTS No. 06 Momentum Autosports Chevrolet Camaro, and a three-car accident that collected a trio of Touring Cars (Eric Meyer's No. 32 XOWii/Samaritan's Feet/Delvira Mazda RX-8, Shea Holbrook's No. 67 Lucas Oil/MyPluggz.com Honda Civic Si, and Brett Sandberg's No. 28 Monticello Motor Club Honda Civic Si).
By the time the clean-up was finished, the scheduled 34-lap race had bumped up against the 50-minute time limit, and only eight minutes remained when the green flag flew again on lap 18.
Long brought the field to the flag followed by Skeen's No. 2 Crager Wheels Chevrolet Corvette Z06, and the pair left third-running Pobst's No. 6 K-Pax Racing Volvo S60 and the rest of the field behind.
Long and Skeen ran essentially nose-to-tail through traffic until the white flag came out on lap 23. Coming through the right-handed turn nine onto Bay Shore Drive, the No. 63 Venodrome Honda S2000 of Tom Felt spun just in front of the leaders. While Long narrowly avoided it, Skeen had nowhere to go and was collected, leaving him to limp home for a ninth place finish and giving Long a 4.110-second victory.
"Mike was running very strong and certainly keeping me honest," Long said. "As we came into the back of the traffic on the last lap, the black S2000 lost it just coming out of the first of the double rights in the back session. I missed him narrowly, literally by inches, and unfortunately that left Mike with a blocked racetrack and I was able to just slither through. It was unfortunate for him, good for us, and that's what it's all about with multiple classes."
Long was happy to escape with a win in the opening round and was already turning his attention to Sunday's second race.
"It's an exciting series, and I think World Challenge has progressed since then last time I raced here in 2006," Long said. "The tires are one thing, the multiple class structure adds an endurance element to the track and to the race series. I think it's a lot of fun, but its certainly challenging, especially on a street course. It's unbelievably busy, but I have a lot of respect for the GTS and Touring Cars who have their own battle going on. There were a lot of yellow flags today, and that's not the way we want to put on a show but hopefully we'll run a little bit cleaner out there. It's tough going out there, everybody is doing their best out there and we'll try to put on a better show tomorrow."
For the complete finish results please visit: http://www.world-challenge.com/event/results.php?ID=1344&event=121
Source: World Challenge
Photo: 9 Magazine