Long On Pole in the Privacy Star/TruSpeed Porsche For Round 1 of the Pirelli World Challenge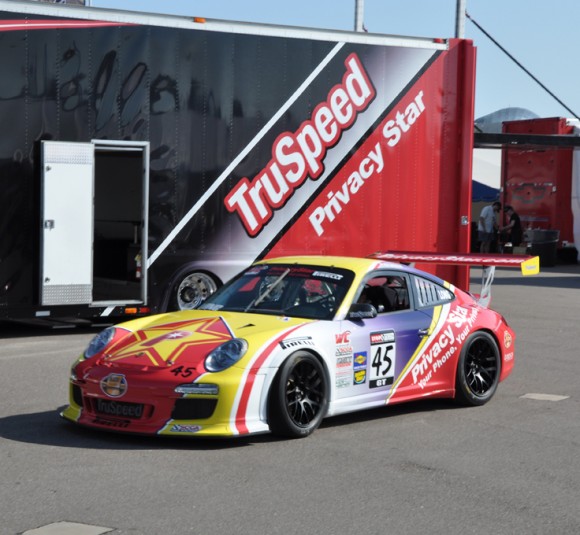 ST. Petersburg, Fla. – March 25, 2011 - Track records were the common thread for all three classes of Pirelli World Challenge Championship drivers during qualifying on Friday at the Acura Sports Car Challenge of St. Petersburg Presented by Pirelli. Patrick Long, from Belleair, Fla., Eric Foss, of Dallas, Texas, and Tristan Herbert, of Reston, Va., set pole position and new records in the GT, GTS and Touring Car classes, respectively.
Long's journey to the front of the grid for Saturday's opening round at the 14-turn, 1.8mile temporary street circuit was an eventful one. Signed just this week to drive the No. 45 TruSpeed./Privacy Star/Entrust Porsche 911 GT3, Long arrived from another commitment in Germany in time for Friday's on track activities. Quickest in the opening practice during the morning, Long set out during the 20-minute qualifying knowing he had a shot at pole position.
That goal seemingly went out the window on the opening lap when he encountered traffic, slid off course, and was forced to pit lane. Long recovered to nip second-running Mike Skeen by just 0.088-second by posting a fast time of 1:15.071 (86.318 mph) on his final lap of the session.
"Into the last corner on the first timed lap, I came through the chicane and there was a slow car," Long said. "I swerved to avoid it and I lost the car, it was facing the wall and then I was into the gravel trap. I thought, ok, we've got damage, we're stuck in the gravel trap. The thing fired up, came out of the gravel and the next lap I had a flat coming into one. I stopped the car and talked to the crew and they said I could come in and change the tire. We went back out with 11 minutes to go, dead freaking last, and put it on pole. That's a testament to the TruSpeed guys."
Long, an accomplished road racer who has won the 24 Hours of LeMans, Daytona, the 12 Hours of Sebring, and American Le Mans Championships during his career, is looking forward to putting all of his skills to the test amongst the 49 cars who posted qualifying times for Saturday's sprint race.
"It's going to be unbelievably busy, probably busier than any endurance racing I've ever done other than maybe the Nurburgring with 200 cars," Long said. "To scale, we've got about that or even more per meter of race track. It's going to be keeping a cool head, but also making good moves, because you'll be able to find three or four seconds by making good moves. But it's hero or zero, I don't want to take anybody out here. We're here for the championship.
"The biggest wild card for me will be the standing start. That's the fun-slash-craziness of tomorrow. Once we get out there and start picking our way through traffic; that comes pretty naturally."
Long is making just his second World Challenge start and first since a third-place finish at Mosport in 2005.
All 49 cars will open the Pirelli World Challenge season with a standing start on Saturday morning at 11:50 a.m.  Saturday's race will also set the grid for Sunday's race two, which will be set by the fastest lap time during the race.
For more information, please visit www.world-challenge.com.
Source: World Challenge
Photo: 9Magazine