Long Doubles Up in Sonoma, TruSpeed Extends Championship Leads
Patrick Long capitalized on TruSpeed Motorsports' perfect preparation and execution this weekend to capture wins in both of the Pirelli World Challenge races at Infineon Raceway, in Sonoma, California. Having qualified second for Saturday's Round 9 of the championship, Long managed to set fast lap of the race in the #45 PrivacyStar Porsche and take his third victory of the season. Due to his fastest lap of Round 9, Long started Round 10 on pole and and scythed through traffic to hold the powerful Cadillac of Andy Pilgrim at bay for his 4th win of the year.
As a team, TruSpeed put in a dream weekend's work – Tomy Drissi, driving the #47 Alvin and the Chipmunks Chipwrecked / TruSpeed Porsche, finished 7th on Saturday and 5th on Sunday, and Rob Morgan, driving the #46 Entrust / TruSpeed Porsche, finished 11th and 10th, respectfully. With such a strong suite of results, TruSpeed solidified its grasp on the driver's and team championships, and with two laps remaining, helped extend Porsche's gap in the manufacturer championship.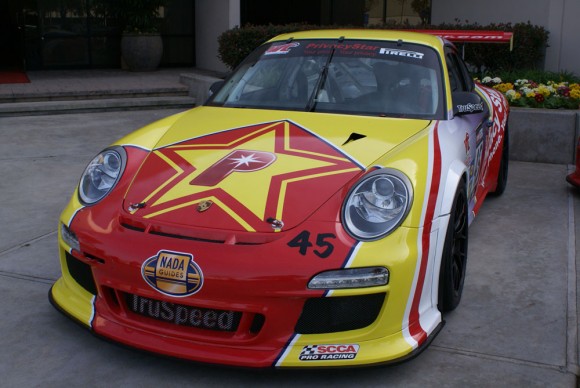 Patrick said, "It was a perfectly executed weekend by the team. We expected a big fight in both races, but the team had done its homework and knew that the shortened Infineon track would play to our strengths.  Given the level of competition with the other Porsches in the field with substantially less "success" weight, we can be proud to have hit all our marks. At this stage in the championship, it's going to be a fight to the finish, and we have to be taking maximum points out of each race, and this weekend, we did just that.  It's all still to play for, and the last two circuits in the season will favor the higher-horsepower cars, but the team has been incredible.  It was a tremendous honor to run with the Cadillac boys this weekend and the TruSpeed guys have given me everything I've asked for this season. It's a tremendous effort for everybody collectively and it's great to be part of this series."
Team manager Tyler Tadevic commented, "Really fantastic performance by the team, all around. Of all the available points for Patrick this weekend, we took all but three of them, which is a true accomplishment at this time of the season. I can't say it was a perfect weekend, but it was definitely something for all of us to be proud of. Tomy had a great weekend in the #47 car – in Sunday's race he chased down Johnny O'Connel in the factory Cadillac for a half an hour, passed him in the hairpin and pulled away for 5th place.
Outstanding effort from Tomy there."  He continued, "Rob's weekend results don't show the strength of his driving or the performance of the car – he was the victim of a bad officiating call on Saturday and did a great job of nursing the car home after some surprisingly heavy contact with a lapped car Sunday. He had tried to go around the outside of Figge in one of the Volvos but clipped a GTS-class Porsche, which seriously damaged his left rear wheel – it's amazing that he still pulled off four passes before the end of the race on that bent wheel. Lastly, a big thanks for our guests from Entrust and PrivacyStar – it was awesome to be able to perform so well in front of our sponsors, and we're looking forward to seeing more of them at Laguna."
TruSpeed Motorsports and the Pirelli World Challenge Series next race, September 16-18, 2011 at Laguna Seca, on California's Monterey peninsula. Live streaming of round 11 will be live at
http://www.world-challengetv.com
Source: Truspeed Motorsports