Lizards Round Out Driver Roster with Patrick Pilet and Nick Tandy For ALMS Season Finale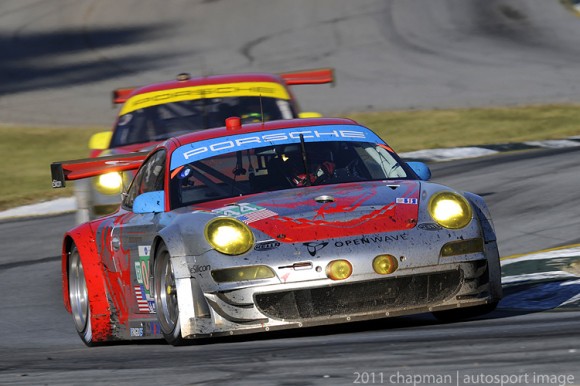 The countdown has begun to the ALMS season finale, the Petit Le Mans at Road Atlanta. The series' flagship event, which runs 1000 miles or 10 hours maximum, gets the green flag on Saturday, October 20 at 11:30 am ET. For the race, Porsche factory driver Patrick Pilet (France) will join season-long drivers Joerg Bergmeister (Germany) and Patrick Long (USA) in the No. 45 Flying Lizard Porsche 911 GT3 RSR. In the No. 44, Nick Tandy (UK) will join Marco Holzer (Germany) and Seth Neiman (USA).
Heading into Petit, Bergmeister and Long are currently third in the ALMS GT drivers' championship with 99 points and are in contention for second. (There are ten drivers who could possibly take the second place title.) The Lizards are third in the team championship with 110 points, 23 points behind BMW Team RLL in second. There are 24 points possible at Petit.
Flying Lizard chief strategist Thomas Blam commented, "Although the 2012 season didn't start out that well, the second half has been pretty strong with a win at Lime Rock and three second place finishes. We still have a shot at finishing second in the drivers' championship so we'll be fighting hard. Petit Le Mans is always an exciting race; historically we've done well. Our goal is to end the season on a high note."
Patrick Pilet has competed with the Lizards several times over the last several years, including a fourth place finish (and pole position) at the 2012 24 Heures du Mans in the No. 79 Flying Lizard Porsche. Pilet also finished 2nd at the 2011 Petit Le Mans in the No. 45 with Bergmeister and Long. He competed for the entire 2008 season with the Lizards, finishing third in the ALMS drivers' championship (with Johannes van Overbeek). In 2012, Pilet is competing in the International GT Open (with co-driver Raymond Narac and team IMSA Matmut); he scored his first victory of the season last weekend at a double-header race at Monza.
Tandy has a lengthy history racing Porsches; in 2011 he was Porsche Carrera Cup Germany Champion. This year, he is also competing in the International GT Open, teaming with Marco Holzer for Manthey Racing. The duo is currently second in that drivers' championship.
Blam continued, "It's great to have Patrick Pilet back with us. He, Joerg and Patrick Long make a solid team: they finished second here last year in the No. 45. This will be Nick Tandy's first race with the Lizards. He has a lot of Porsche experience, and now this year has stepped up to the RSR. He has been Marco's co- driver this year in Europe and they are battling for the championship there; it's a good foundation to bring to the No. 44 Porsche."
The 2012 Petit Le Mans gets the green flag at 11:30 am ET Saturday October 20, 2012. Qualifying is broadcast live on EPSN and ALMS.com. The race will be broadcast live on ESPN3.com and ALMS.com and tape-delayed on ABC, starting Sunday Oct 21 at 1 pm ET. The race will also be broadcast live in Europe on MotorsTV, in Latin America/Middle East on Fox and tape delayed in Canada on Sports Net. Flying Lizard will broadcast the team radio live throughout the race; read the team race blog for frequent team updates at www.lizardms.com.
Source: Flying Lizard Motorsports