Lizards Return to U.S. for ALMS Round Four at Lime Rock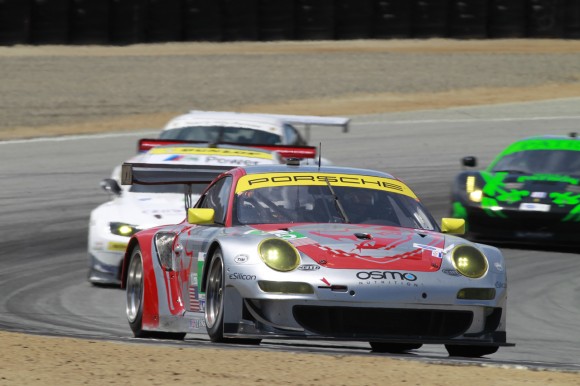 The Lizards are back in the U.S. for round four of the ALMS season, the 2012 Northeast Grand Prix, which gets the green flag this Saturday, July 7 at Lime Rock Park. The Lime Rock race follows closely on the heels of the 24 Heures du Mans, in which the Lizards finished fourth in GTE Am in the No. 79 Porsche (read the Le Mans race report). For this Saturday's race, the driver lineup will be Joerg Bergmeister and Patrick Long in the No. 45 Flying Lizard Porsche and Seth Neiman and Marco Holzer in the No. 44.
With seven races left on the ALMS schedule, the Lizards need a radical change of fortune after a tough season start that has put the team far down in the GT points standings (read the Sebring, Long Beach, and Lagunarace reports).
Flying Lizard chief engineer Craig Watkins said, "Historically, we've had fast cars at Lime Rock: the No. 45 has finished on the podium every year since 2004 and won four of those races. It's a very short race weekend and we don't have much track time so we'll have to hustle to get to our race setup. We need to have a good race here in order to get back into the points chase; our top priority is to have mechanically solid and issue-free cars this weekend."
No. 44 engineer Steve Conover added, "Lime Rock is narrow and short, with a relatively low top speed; most of the circuit is actually a turn so there is a fair amount of lateral acceleration. We expect to see the Porsches perform well here in the high downforce configuration that we run. The 2012 aero package should also be a good fit for Lime Rock, although we haven't yet tested it here. Because of the short laps, the large number of turns, and the heat, tire management will also be a focus on Saturday."
Source: Flying Lizard Motorsports