Lizard Porsches 5th/6th on VIR GT Grid; Green Hornet GTC Pole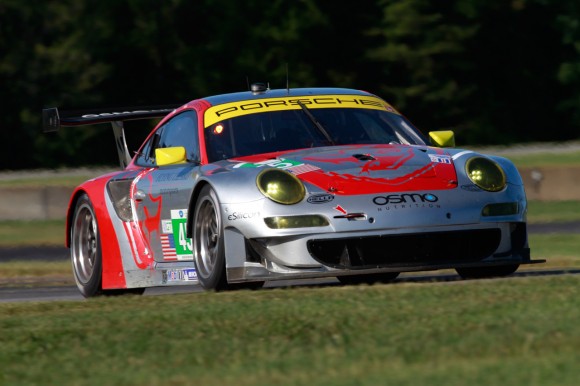 Lizard Porsches Qualify Fifth and Sixth in GT For ALMS Virginia International Raceway;
Faulkner Grabs Fifth GTC Pole for Green Hornet Racing Porsche
Although many of the Porsche customer team drivers have raced at the 3.27-mile Virginia International Raceway sports car course, the American Le Mans Series has never had an event here, and the car set-up was certainly an issue as Porsches qualified fifth, sixth, eighth and nine on the GT grid for tomorrow's four-hour VIR 240.
The race, which takes the green flag at 2:30 pm Eastern time, will be broadcast live online Saturday on ESPN3.com, will be telecast in a two-hour edition on Sunday, September 16 at 5:00 pm on ESPN2. Live scoring will document the progress of the race on www.alms.com.
In GT for Porsche, it's the manufacturer points that seem to be most important, as Porsche is within striking distance of BMW for second place (BMW – 126, Porsche – 123). Corvette leads with 145 – a long shot for anyone to catch.
The top Porsche 911 GT3 RSR on the grid will be the #45 Flying Lizard Motorsports entry of Joerg Bergmeister (Germany)/Patrick Long (USA). Bergmeister, who qualified the car, was happy with the balance, and thought he had a shot at a higher position.
"On my quickest lap, I made a mistake in turn 16 that cost me that lap and also the following one. The car was pretty good today and I think we had a shot the front row; now we have to focus on finalizing our race setup and go from there. Hopefully we'll have a good race with strong pit stops. It's a long event and everyone seems to be struggling with the same challenges, mainly maintaining rear grip towards the end of the stint," Bergmeister.
Long, who drove the car during the team test here ten days ago, as well as in the early practice sessions, was also pleased with the car setup, but said the drivers will have to run a clean race to finish high. "Our test session here after Baltimore gave us good setup input, and we feel that we have achieved good balance on the #45 Lizard Porsche so far. We have done a good job with conserving our Michelin tire for the past five events, and with a four-hour race, we have a good chance to be there at the end. There will be a lot of contact on the track tomorrow, and we will have to stay out of that activity," said Long.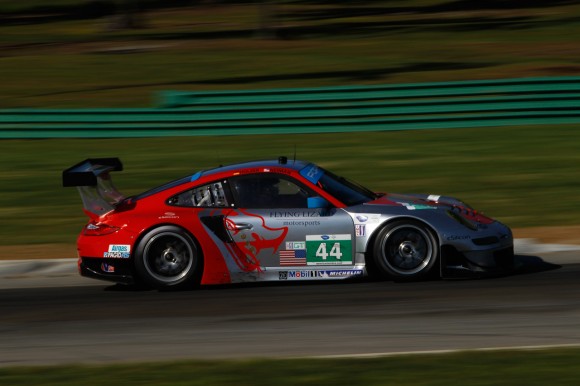 Marco Holzer (Germany), who will co-drive the #44 Lizard Porsche team car with team owner Seth Neiman (USA), likes the track, but his first driving experience here was yesterday, part of the reason he qualified sixth.
"It was a difficult qualifying session for me, I had some problems and the field was so close that even a small mistake was enough to cost multiple positions. It's my first time here at VIR: I'm looking forward to tomorrow, I think we will have a solid car for the race," said Holzer.
The most recent ALMS GT winners were the Team Falken Tire Porsche drivers, Wolf Henzler (Germany) and Bryan Sellers (USA), riding to victory through the streets of Baltimore on Labor Day weekend. But, as Sellers, who qualified eighth today, pointed out, there is not much learned at Baltimore that applies to Virginia.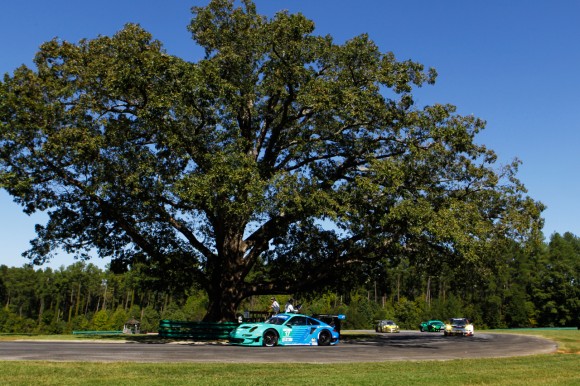 "If you look at the timesheets, it's obvious that we struggled in qualifying today. We are behind on time because we didn't test here, and we still have a lot of things we need to make better with the car. We're working through our progressions right now. We made some good changes through the sessions and we made some bad changes through the sessions, but that's part of going through it all. We still have a warm up in the morning and a four hour race. Throughout the year, including Baltimore, our strong point has not been qualifying. For us to focus on qualifying is wrong. We spend the majority of our time focusing on race distance and long runs. It's always a little bit of a blow when you don't qualify highly as you want, but that's not our focus. Our focus is to make sure we're good for tomorrow and trying to see how we can get the car as balanced as possible over a whole stint. With a four hour race, I wish I could say speed wasn't important, because it is, but we need to do what we've done in a lot of the other ones and make sure we don't make a lot of mistakes and execute well. We'll make sure pit stops are strong, driver changes are strong, and all of the stuff you have to do to finish well," said Sellers
Henzler echoed his co-driver's sentiments, and added that a four-hour event will help their team. "We know we have struggled this year in qualifying but always do better in the race, so having a four hour race helps us. It's better for us because we know we can do consistent lap times, even if we may not be the fastest. We have a good crew for our pit stops, and always seem to make up positions because of that during the race. We just do what we always do and have a better strategy and pit stops than the others and then I'm sure we can improve our position," said Henzler.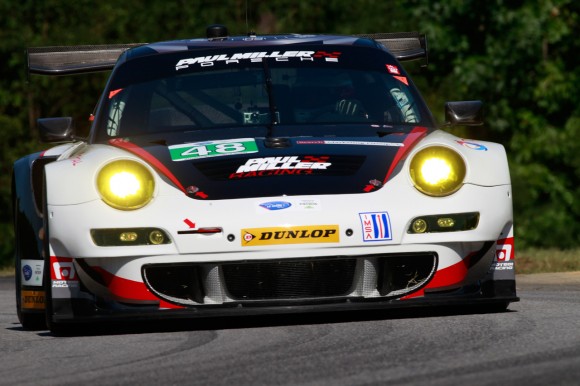 Right behind them is the Paul Miller Racing Porsche 911 GT3 RSR of Bryce Miller/Sascha Maassen, which qualified ninth will Miller behind the wheel.
In the GTC class, Damien Faulkner (Ireland) captured his series-record fifth pole of the season as the Green Hornet Racing Porsche 911 GT3 Cup car tries to chase the WeatherTech Alex job Racing Porsche for the championship. Faulkner was grateful for the pole performance, but said grid position has not been the problem for the team.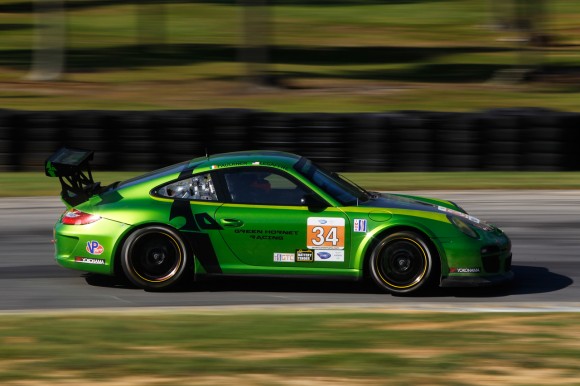 "It's been race day, not qualifying day, that has been our downfall. We've been crashed into, pushed off the track, and cut off by faster classes. When we have been able to race clean, we've been competitive. We have to push tomorrow towards one goal – a first place finish," said Faulkner.
Alex Job Racing's Cooper MacNeil leads the GTC driver's championship by 34 points over teammate Leh Keen. MacNeil has been out front in the championship since the season's second round at Long Beach. Green Hornet Racing's Peter LeSaffre and Damien Faulkner remain alive; they trail MacNeil by 35 points. Alex Job Racing leads Green Hornet by 33 points in the team standings and by 35 points over TRG. That means that if Cooper finishes fourth or higher at VIR, he wins the championship, even if Green Hornet wins the race. Looking at the worst case, if Cooper DNFs, he still wins the championship if Green Hornet does not finish third or higher. Even if that happens, Cooper would have to DNF at Road Atlanta, and Green Hornet would have to win.
Keen qualified fifth in GTC for tomorrow's event.
ALMS Qualifying Results
GT class
1. Johannes van Overbeek (USA), Ferrari F458 Italia, 1:45.988 minutes
2. Dirk Müller (D), BMW E92 M3, + 0.37 seconds
3. Oliver Gavin (GB), Chevrolet Corvette, + 0.42
4. Jan Magnussen (DK), Chevrolet Corvette, + 0.51
5. Jörg Bergmeister (D), Porsche 911 GT3 RSR, + 0.60
6. Marco Holzer (D), Porsche 911 GT3 RSR, + 0.61
8. Bryan Sellers (USA), Porsche 911 GT3 RSR, + 2.03
9. Bryce Miller (USA), Porsche 911 GT3 RSR, + 2.33
GTC class
1. Damien Faulkner (IRL), Porsche 911 GT3 Cup, 1:52.426 minutes
2. Jeroen Bleekemolen (NETH), Porsche 911 GT3 Cup, 1:52.796 minutes
Source: Porsche