Kelly Collins and Charles Morgan in for TruSpeed at Miller Motorsports Park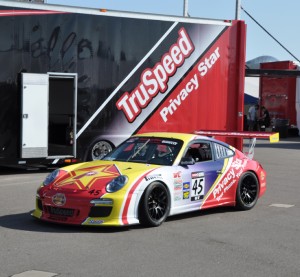 TruSpeed Motorsports will have a transformed driving pair for this weekend's Pirelli World Challenge race at Miller Motorsports Park, near Salt Lake City, UT. 2008 Grand-Am Rolex Series GT Champion and longtime GM factory driver Kelly Collins will drive the #45 PrivacyStar Porsche, while 1997 Rolex 24 At Daytona class winner Charles Morgan will drive the #46 Entrust / TruSpeed Porsche. Team owner and regular driver of the #46, Rob Morgan, will miss the Miller race due to the impending birth of his first son, while Patrick Long, driver of the #45, is racing at the Nürburgring in the Porsche GT3 R Hybrid.
Miller Motorsports Park, a racing mecca set in the desert outside Salt Lake City, is a long and ultra-fast circuit totaling 4.5 miles and 23 turns, and is the longest in North America. Traditionally, Miller has been a circuit which suits Porsches well, a circumstance not lost on Charles Morgan.
"As the team has seen at the twisty street circuits so far at St. Petersburg and Long Beach, our Porsches seem to excel in tight corners, and accelerate well out of the turns," he said. "Miller features some long straights, which might seem like a disadvantage against some of the high-displacement cars we compete with, like the Cadillacs, Mustangs, Corvettes and Vipers, but we'll make up some of the disadvantage with the low and medium-speed corners around here. Because of that, we're optimistic for a good result this weekend."
Kelly Collins said, "I've driven at Miller many times over the years, and it's one of the best facilities in the country. It'll be great to get back out there, this time in a Porsche, and I'm excited to see how the PrivacyStar car stacks up against the competition. It's always fierce in World Challenge, and I'm looking forward to going head-to-head with my old Corvette teammates Johnny O'Connell and Andy Pilgrim."
One issue that TruSpeed will have to contend with this weekend is the unexpected addition of 127lbs. of "success" ballast added to Collins' #45 car. The ballast rule is intended to equalize the competition and improve every car's chances of winning races, but the team's understanding ahead of the weekend was that the ballast was associated with Patrick Long's success, and that it wouldn't apply to Kelly Collins this weekend.
Team owner Rob Morgan said, "We had verbal and email confirmation from SCCA officials saying that Kelly wouldn't have to run ballast in the car, but the day we unloaded the trucks, we found out they'd reversed course. Apparently they consider Kelly a 'hot shoe' or hired gun, which we'll take as a compliment to him. He's a proven winner, and we're excited to see what he can do in the car, ballast or not!"
A live webcast of this weekend's race will be available at http://www.world-challengetv.com/ on Saturday, April 30 at 4:30pm ET. Television coverage will be broadcast on Versus on Saturday, June 18 at 3:00 p.m. ET.
Source: Truspeed Motorsports
Photo: 9Magazine