Kanaan, Barrichello Take Dener GT3 to Contest Daytona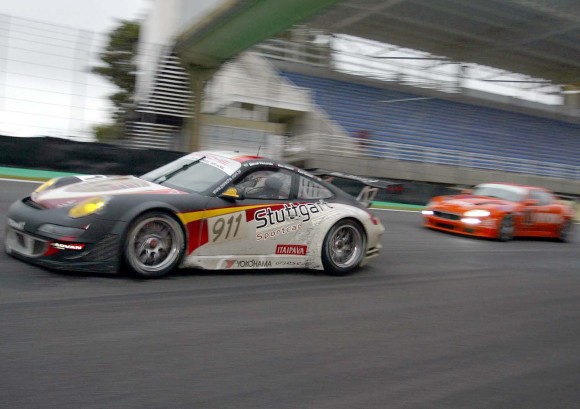 Brazilian racing superstars are plying their trade in the Dener Motorsport Porsche this January in Daytona Beach, FL.  F1 Retiree Rubens Barrichello, IndyCar legend Tony Kanaan, and a pair of Brazilian stock car racers Ricardo Mauricio and Flavio Figueiredo will join forces to pedal their way around for 24 hours hoping to come out on top.
Barrichello, after ending an eighteen year Formula 1 career, and fresh off his rookie season in IndyCar is ending his short lived career in the US to return to Brazil for a run in the Brazilian Stock Car V8 championship.  One last romp on American soil before going home has drawn him to the famed Rolex 24, and what better way to go than in a Porsche?
Tony Kanaan has been at the forefront of American open wheel racing since the late 1990s.  Starting in Indy Lights, moving through Champ Car, and settling in IndyCar in 2002, Kanaan even won a championship in 2004.  Spending several years with Andretti Autosport, Kanaan is now employed at KV Racing, the same team who employed Barrichello in 2012.
Mauricio has also spent a lot of time in open wheel series, having progressed through Formula Ford, Formula Vauxhall, Formula 3000, and various Formula 3 series.  Since 2004, however, Ricardo has been in Brazil contesting a number of national touring car and stock car series.  With three championships to show for his time, I'd say he's done quite well.
The fourth member of this quartet, Flavio Figueiredo, has raced nearly everything with wheels.  Several international touring car classes, several international open wheel series, and a number of sports cars have netted drives for "Nono" and contributed to race victories in a number of different countries.
The Fifth member of the team is also Brazilian, of sorts; The Dener Motorsport Porsche GT3.  Dener motorsport is not exactly a known quantity, though they have contested a number of national GT3 events, as well as a few LMS events in Europe.  The beautiful thing about the 24 hour event, though, is that luck is much more important than reputation.  With a bit of lady luck on their side, and a whole lot of skill, these guys could take Porsche back to the top step.