July 1974: Stoddard Imported Cars Offers a Trio of 74 IROC RSR's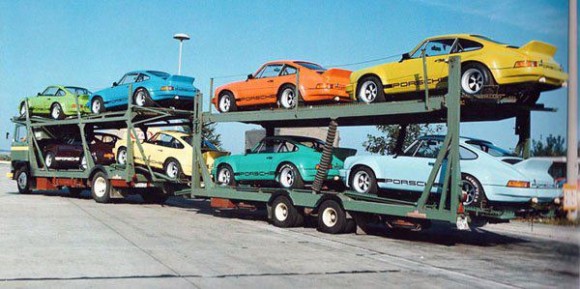 1974 was the premier year for the International Race of Champions. At the time, 12 of the most competitive drivers in the world converged for a series of four races over the off season between 1973 and 1974. Well known drivers from SCCA, NASCAR, Formula 1, and USAC competition came together to compete in identically prepared Porsche 3.0 RSR racing cars.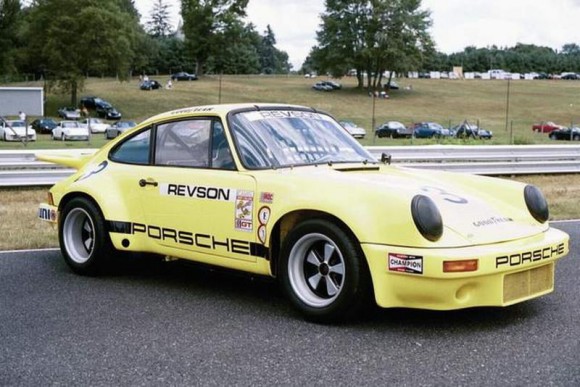 Daytona comprised the location of the final showdown of the series, and only the top 6 finishing drivers would compete in the event. Mark Donohue, George Follmer, Peter Revson, Bobby Unser, David Pearson, and A.J. Foyt met for a Floridian February Showdown of epic proportions. Both Foyt and Follmer would fail to finish, pushing their respective RSRs harder than they liked. David Pearson fell two laps down, but finished. The podium finishers, each of which were involved in a knock-down, drag-out fight to the finish, completed all 25 laps. The winning margin was under 8 seconds with Donohue coming out in front of Revson, who led Unser to the finish. Donohue's season finale win cemented his place as the first IROC champion. This win would be the last of his career, as he tragically passed away behind the wheel of a Formula 1 car shortly thereafter.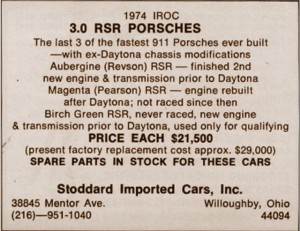 Donohue once wrote that "The Carrera (RSR) is, without a doubt, the very best off-the-shelf production race car available at any price." So, what is that price, exactly? From the looks of this vintage ad, a decent chunk of money, considering a new 1974 911S was just over 10 thousand. Stoddard Imported Cars in Willoughby, Ohio (less than 40 minutes drive from where I am currently sitting), offered three such vehicles for sale in July of 1974. $21,500 dollars for a racing car that was used for 25 laps around Daytona's highbanks and infield road course? Inflation corrected, that equates to just over a hundred grand, which is less than a new C2S with no options.
If only I had a time machine, that I could travel back and pick up one of these "very best" machines for my own. Would my efforts be better spent building a time machine, or an RSR replica?
Photos: Stoddard Imported Cars