Jerry Seinfeld Shares His Porsche Passion in an Interview with Welt am Sonntag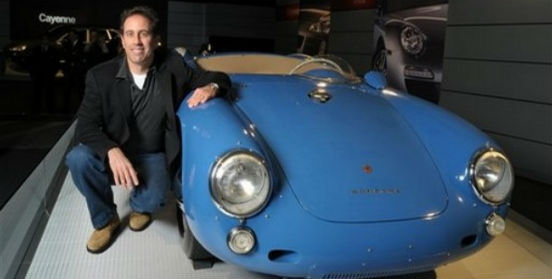 A few weeks ago, Welt am Sonntag, one of Germany's largest and most influential Sunday papers, ran an extensive interview with Jerry Seinfeld on the occasion of the world premiere of the 991.
It is a real good mix of very personal, smart and sometimes even funny observations and reflections of Jerry on the 911, his passion for Porsche and the automotive world in general. And a very powerful testimony to the mystique of our brand.
PCNA's Bernd Harling spent the time to translate the interview in English so we could enjoy hearing the words straight from Jerry's mouth.
"A Porsche is very humanistic"
Jerry Seinfeld has reconciled the intellectuals with comedy. The American TV star invests his money in German sports cars, which he collects as other people collect art. A conversation on ultimate things.
Born 1954 in Brooklyn, Jerry Seinfeld is one of the most successful figures in the history of television. With "Seinfeld", which ran on NBC from 1989 to 1998 he made more money than any other comedian before him, up to $100 million a year. His great passion is Porsche. He has a townhouse in New York for his collection and some sort of a car hangar at Santa Monica airport near Los Angeles. Shortly before the world premiere of the new Porsche 911, the seventh generation of the sports car that is been built since 1963, Seinfeld agrees to a conversation among experts. Among the things he shared was the confession that he never has totaled a Porsche. The great comedian becomes totally mum about how many Porsches he owns, but his collection is one of the world's largest.
Welt am Sonntag: Have you already seen, touched or even driven the new Porsche?
Jerry Seinfeld: I have seen pictures. It looks fascinating. I will drive it for the first time in October when something will be arranged for me in Monterey.
The rear view, in particular, looks significantly different.
I like it. Very much, in fact. It looks lithe and relaxed. I also think it's nice that they've gone back to say 911 on the rear.
Did you already order the new one?
No, not yet. I always wait for some of the later versions, I don't collect first editions. Currently, I'm waiting for my new 4.0 RS. I got the last of the edition of 600 cars. I was actually able to have Hans Mezger, the former head of the motorsports department, hand sign the car under the hood.
What color?
Black. Black is the color for a car you love so much that you don't want to add anything to it.
And the adhesives, stickers?
No adhesives on my RS. It is minimalistic. I love it to essentialize cars, which means bringing them back to their (reason for) existence. I had a 1958 Speedster completely modified, the bumpers and top taken off, and there is only a tiny plastic windscreen where there is normally the front window.
In Germany, car tuning always takes the opposite direction. Is your way of auto minimalism inspired by the American hot rod culture?
Yes and no. My way of customizing is considerably more respectful towards the original than within the hot rod arena. You have to see the car. It reminds you on a race car of the Fifties although they weren't able to build such a car then.
Is Porsche more than the 911?
Yes, much more. I am half-Austrian and have – if you so will – a very special esthetical relationship with those cars. Looking at a Porsche sets free feelings like no other car. I love the Porsche story, and I am building my collection in a way that does tell this story; from the beginnings in Gmuend to the latest models. A well made tool, a useful machine or a captivating object: I begin loving these objects as soon as I have the impression that they wanted to become a part of me. The total opposite of all those objects that serve to elevate me or enhance my status. Most high-end sports cars remind me on Halloween costumes: They are monstrous masques for their drivers just as if they were designed for the Cirque du Soleil. On the other hand, a Porsche feels like a warm, round pebble in your hand. A Porsche is very humanistic. Even the shape and the face of a Porsche carry some human like elements.
Are you disturbed by the Nazi roots of the Porsche Company?
I have a much bigger problem with the Nazis themselves than with the cars that were designed during that era. For me the VW Beetle was close to some kind of reparation towards the rest of the world.
Porsche haters such as the infamous British auto journalist, Jeremy Clarkson, think the cars are too German, over engineered, too non-theatrical. They love the opera Ferrari and Lamborghini provide.
Okay, this I can understand. I would be equally frustrated if I had to live in a miserable weather as Clarkson. If there's always steam and rain it might well be that a Lamborghini puts you in a better mood temporarily.
If one compares the really fast Porsches such as a 911 Turbo S with a Ferrari 458 those cars are indeed rather sober, unexcited and in a very unique way, minimalistic.
That is correct. And only those who are looking for these characteristics should drive a Porsche. Whoever drives a Porsche doesn't look for the maximum rather the minimum.
What is your favorite car?
That's hard to say. I love them all. But just right now I acquired a very rare, hardly driven '73 911 RSR. The car was stored for over 20 years and had to be refurbished. This to me seems to be the ultimate early 911 – I actually haven't even seen or driven it. Come to think of it, my favorite Porsche is always the one I am just sitting in.
Are all your Porsches in driving condition?
All of them, even my '49 Gmuend Porsche. I have a mechanic who takes care of all those vehicles and he does this with lots of enthusiasm and diligence so that I can just take off in any of them, regardless of the model year.
How do people react if they see you driving these vintage cars?
The Speedster I just told you about might be a totally unique design but a really delicate little car, like a black jelly bean. People don't know what it is but they realize that they see something really special – a pure shape. Noisy and new cars in garish colors create attention automatically. A brutally simplistic car as my Speedster in Black is just the opposite design, not the least vis-à-vis a culture that all too often is overly noisy or too forced.
Porsche as a modernistic manifesto?
No idea what you mean with modernistic! I believe in Mies van der Rohe who said that a fascinating simplicity is something extremely valuable, which can only be reached with great difficulties. I am searching for the same exciting simplicity when I'm writing comedy. That's the essence of my esthetics, the same as you know from Braun and Apple. "Less is more" has become an often used phrase, but I doubt that many people know what it means. Ferdinand "Ferry" Porsche put it much simpler: good design calms you down.
They call the headlights of the 911 canons in Zuffenhausen. Others are reminded more on women's breasts. Would you send such an over-expert to a psychiatrist?
No, what he needs is a date. If you ask me, the front of the 911 reminds me on a human face. Yet, I find the location of the speedometer much more significant. This was what impressed me the most when I sat in a Porsche for the first time. This car's priority is speed. Period.
What was the fastest you ever drove in a Porsche?
I believe I did 200 mph on some former Russian military airport in 2003 during the launch of the Carrera GT. Of course, I have been driving pretty fast on the German autobahns, but the joy and happiness of driving a sports car for me isn't defined by speed.
But don't Californian and New York speed limits stand in the way of your strife for happiness?
Fortunately, our speed limits aren't observed by too many people. Only the ones who constantly drive over the limit get into trouble.
Have you got a good lawyer?
Yes indeed, his name is "fame". But I can't comment further as I don't want to ruin this wonderful privilege.
Three American universities have researched if driving a Porsche means that you have a certain advantage when dating women. The result was that it proved beneficial for a quick fling but not if you were looking for true love.
I don't care at all what people – including women – think of the car I'm driving. I drive every car just for myself. It is truly marvelous to find something in your life that you are passionate about.
How does your family deal with your obsession?
My wife loves her Panamera Turbo. She claims it is her favorite material possession. I like it to get people excited about such a car. This even works with people who normally don't have anything going for tin clunkers. My friends often ask me: what's your car's top speed, how fast do you drive it? But this is not the point at all. Top speed doesn't even make it among the top-ten list of kicks that a Porsche provides me with. Much more important are drivability and design. Today most cars can drive fast. What's important is not how fast it drives rather how it drives when it goes fast.
Is there an ugly Porsche?
No. Well, perhaps. But unfortunately, I have none.
But isn't the Panamera a bit strange looking?
Not at all. Mine is without chrome, totally black, 19 inch wheels. It looks pretty good.
And what about the Cayenne?
I'm no fan of the Cayenne although I have three kids. For family outings I own a Honda van. Those who want to go cross-country should buy themselves a horse carriage. It's ridiculous to ride around town in an SUV just to climb up curbs. SUVs are stupid.
How about a Porsche with an electric motor?
I am not convinced that electricity will save our planet. I think a big Turbodiesel with its admirable mileage makes much more sense. Besides, maybe the Middle East will change in light of the Arabian Spring. I haven't driven a Teslar either because I love combustion engines and spark plugs. I'm a traditionalist.
Source: Welt am Sonntag/September 11, 2011 VIA Suncoast Motorsports