Hurley Haywood to Serve as Honorary Chairman at Hilton Head Island Motoring Festival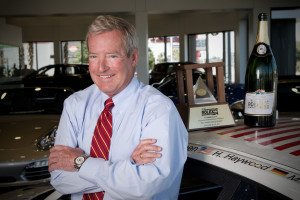 The Hilton Head Island Motoring Festival has announced that legendary Porsche race car driver Hurley Haywood will serve as this year's Honorary Chairman for the Nov. 2-3 Concours d'Elegance. Hurley will be joined by a number of other notable guest judges, including Jens Walther, President of Porsche Motorsport North America.
Known as the 'most prolific sports car endurance driver' of all time, Hurley Haywood has won more endurance classics than any other driver in racing history. Winning the 24 Hours of Daytona five times, the 24 Hours of Le Mans three times and the 12 Hours of Sebring twice has made Hurley one of the most accomplished and renowned race-car drivers in the world.
Other guest judges include auto industry veterans such as Keith Martin, Brett Berk, Ezra Dyer, Ken Gross and Derek "Nobby" Clark.
Playing host to some of the country's finest collector automobiles, Hilton Head Island sets a beautiful backdrop with its majestic live oaks and draping Spanish moss. With everything from jaw-dropping classics to two-wheeled machines to wooden boats to amazing beach mobiles, Hilton Head Island brings out the car lover in all of us.
Photo: Tom O'Neal