Hamann Motorsports Reveals "Cyrano" Based on the Panamera Turbo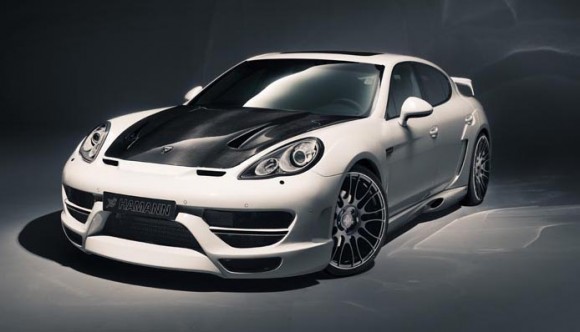 Hamann Motorsport has turned the Porsche Panamera Turbo into a rocket. From the factory, the Porsche Panamera is blessed with loads of performance, but this is still not enough for the Laupheim-based tuner. They're crowning the Panamera as a super sports car with 603 hp and 641 ft lbs of torque at 2,250 – 4,500 rpm. All this power is good for a sprint to 62mph in 3.9 seconds and hitting the 125mph mark in just 12.6 seconds. With the Sport Chrono Package activated, the Hamann Panamera catapults to 62mph in a breathtaking 3.7 seconds to and to 125mph in 12.4 seconds respectively. At the same time the top speed increases to an impressive 195mph.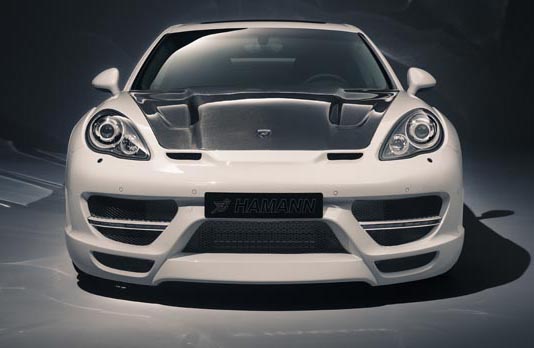 In order to meet the highly visual requirements and aerodynamic demands, the Hamann engineers revamped the front of the four-seater completely. Larger air intakes in connection with perfectly integrated daytime running lights give the Porsche an even more dynamic look. Moreover, the optimized airflow – generated by the redesigned hoodt – reduces the lift at the front axle even further. Adding 60 mm width to the front and rear fenders makes the GranTurismo look even more imposing and are instrumental for the powerful overall appearance of the Hamann customization. The Cyrano side skirts were modelled such as to steady the airflow across the sides and let the stylish sports car appear even closer to the tarmac and stretched. In order to reduce the up-lift forces at the rear axle, Hamann engineers developed a special diffuser rear apron for the sedan from Zuffenhausen. The apron encases the striking dual tailpipes of the sports exhaust system and makes this car's rear a real eye catcher. Fittingly Hamann Motorsport has called its bodywork program Cyrano in honor of the French fictional character with a long nose.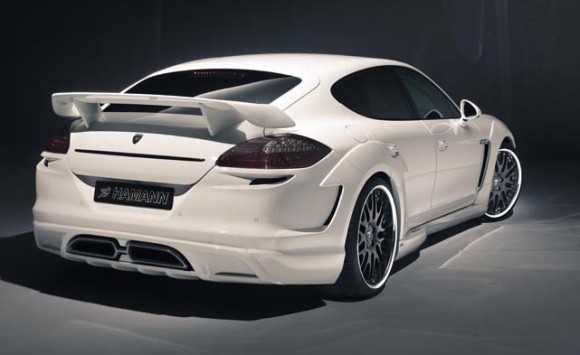 To bring the mighty appearance of the Cyrano to a full circle, Hamann added its new unique forged "Gunmetal" 22-inch rims. The design of the extremely light wheel combines sportiness and elegance. The recommended front wheel/tire combination is 9.5Jx22 inches with 265/30 ZR 22 tires. The rear is fitted with 11.0Jx22 inch rims and 305/25 ZR 22 tires.
Hamann completely redesigns the interior of the Panamera and turns it into a Five-Star VIP Lounge. The factory-installed interior has been replaced with the finest leathers. The Hamann  aluminium pedal system shines brilliantly in the footwell and complements the interior perfectly. Everything is made with the highest degree of craftsmanship and precision.
The power enhancement package for the Panamera Turbo will soon be available from Hamann. Included in this upgrade – which is still under development – is a rear sports muffler as well as a new engine management system. The result is a performance increase by 80 hp and a torque that has been enhanced by 92 ft.lbs.
Source: Hamann Motorsports