Gear
Get your 9Magazine Gear
A comfortable and stylish addition to your wordrobe, the 9Magazine T-Shirt is 100% Cotton preshrunk and features a line of vintage Porsche automobiles perfect for any enthusiast. Available in Adult Medium, Large, & Xtra-Large.
HATS
Available in black, the 9Magazine hat is a great addition to your collection. One Size fits all.
DECALS
Show your support! 9 Magazine decals are available in 1″x4.5″ and can be applied to any surface. FREE By Request! Send mail to Editor@9magazine.com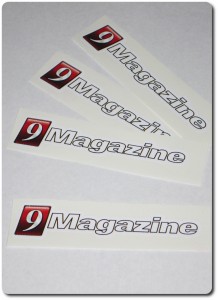 *Shipping cost is additional on all items. Please allow 2-3 weeks for delivery on in stock items.
We appreciate your support!