Fully Protected Carrera GT Is a Wrap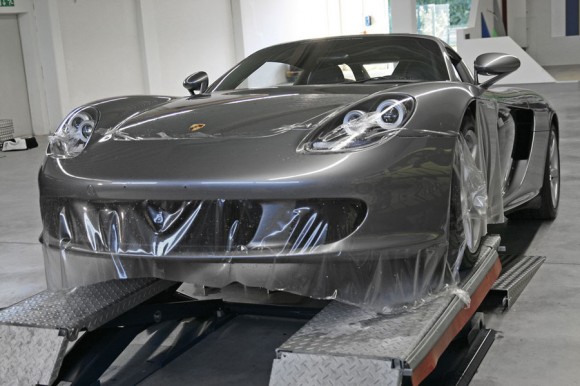 Imagine you're driving your Carrera GT down the freeway when the unthinkable happens. The landscape truck ahead is spewing pebbles and some hit your Porsche. Yes…they will leave a mark. In the past we've seen clear bra's to prevent such an atrocity, but what it you want to protect the WHOLE car?
A German firm named CAM SHAFT has introduced a new, brilliant stone chipping protector for the entire car! Apparently the idea of value preservation by protective wrap asserts itself. In the present case, the Porsche Carrera GT, the Porsche supercar manufactured from 2003 to 2006 serves as the guinea pig. The engine hood, the front bumper, the complete (two-part) fenders, the lower side skirts and the carbon entrances are laminated for protection.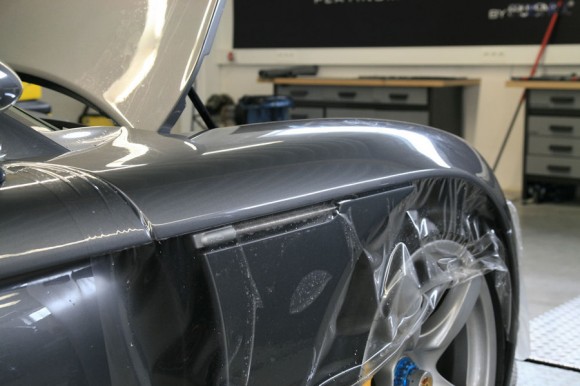 Contrary to conventional Color Change wraps, this protective film is not made of PVC (polyvinyl chloride), but PU (polyurethane), a softer and more absorbent material. The transparent adhesive film was originally developed for the airline industry for the protection of propellers and rotor blades against foreign objects. The new wraps are characterized by their extremely high transparency and they provide nearly invisible protection while achieving a fantastic depth effect of the original paint. Of course the gluing of the PU stone chipping protection film requires some installation skills, which are not comparable to those for conventional PVC films for car wrapping.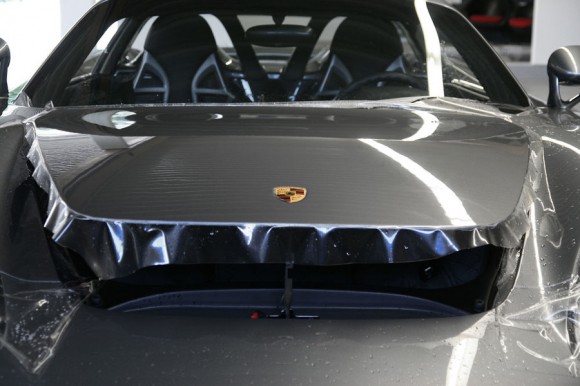 The solution? Wrap the entire car for protection from stone chips. Now if they could only make a wrap that prevents door dings while in the parking lot!
Photos: Cam Shaft – Premium Wrapping