Flying Lizard to Field Two Porsche 911 GT3 RSRs for the Complete 2010 ALMS Season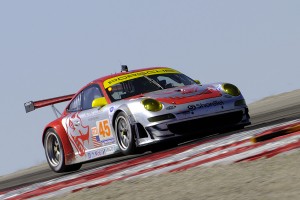 December 11, 2009 – Sonoma, California – Flying Lizard Motorsports announced today that the team will return to the American Le Mans Series in 2010 for their seventh consecutive season, fielding two Porsche 911 GT3 RSRs in the GT class.* Joerg Bergmeister and Patrick Long, both Porsche factory drivers, will reunite in the No. 45 Flying Lizard Porsche to defend their 2009 ALMS GT2 driver's championship title. Team principal Seth Neiman and Darren Law will drive in the No. 44 Porsche.
Flying Lizard has won the ALMS GT2 team title two years in a row: 2008 and 2009. Bergmeister has won two consecutive GT2 drivers' championships with Flying Lizard: 2009 and 2008 (with Wolf Henzler), and has won four times overall. Bergmeister and Long have won two ALMS championships together.
In the No. 44, Law will join Neiman full time for the season. Law has driven with the Lizards as both a full time and guest driver for the last six years. 2010 will be Neiman's seventh year in the No. 44 with Flying Lizard. 
The team will compete in all nine American Le Mans Series races in 2010 and will participate at the Winter Test at Sebring in late February. For a complete schedule, see www.lizardms.com.
"We are delighted to return with Porsche for the 2010 season," said Neiman. "We have a very strong relationship with Porsche: both organizations are committed to being competitive over the long haul. The continuity of being with the same manufacturer for six years allows us a stability that few of our competitors have attained. In my view, that's how you get better: keep the situation stable so that you can refine and learn."
He added, "Next year, the GT field will be extremely tough. Our goal is to win the championship again. To do that, we have to improve our performance at the very long races. We must go into every race weekend knowing that our competitors do something important better than we do. We need to find out what that is, learn from them, and then try to do it better. We've won two championships in a row and the target is on our back. I expect that pressure will drive us to an even greater focus and intensity in 2010."
Image courtesy: www.lizardms.com