Flying Lizard Porsche On Rolex 24 Pole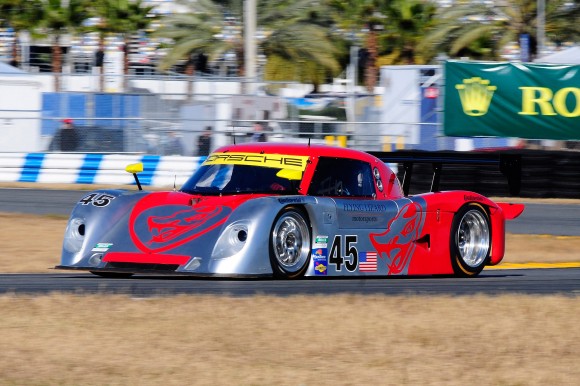 Bergmeister on the pole in the No. 45, new Daytona DP track record!
Porsche factory driver Joerg Bergmeister claimed pole position for this weekend's Grand-Am season-opening Rolex 24 at Daytona in the Flying Lizard Daytona Prototype.  He claimed the overall pole with a new class qualifying record of 1 minute, 40.099 seconds.
 Bergmeister was just more than three one-hundredths of a second ahead of 2010 pole winner Max Angelelli aboard the SunTrust Dallara-Chevrolet.
"I was ready to come in, and the team told me to try again," Bergmeister said. "I went for it. I risked everything, and it worked out perfectly. I knew we have a great car and a great engine, but I was really surprised to win the pole – with the team running the DP for the first time. I was hoping to qualify in the top five."
Ironically, Bergmeister's No. 45 Flying Lizard Motorsports Porsche/Riley is the same car that David Donohue set the previous record of 1:40.540 (127.492 mph). Donohue went on to win the 2009 Rolex 24 for Brumos Racing, becoming the seventh and most recent driver to win the race from the pole.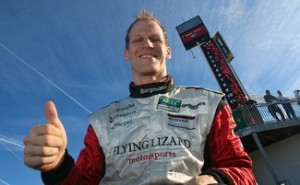 "This car has some great history," said Bergmeister, who will co-drive with Patrick Long, Seth Neiman and Johannes van Overbeek.
"I have to thank the team," said Bergmeister, who shares his Riley with team boss Seth Neiman, Patrick Law and Johannes Van Overbeek. "It is our first time with a DP, so this is pretty impressive. I was only aiming for a top-five, so I was really surprised to get pole."
Source: Grand-Am Racing; Flying Lizard Motorsports
Photo Courtesy: Bill Kent/9Magazine; Grand-Am