Flying Lizard No. 45 to Start on GT2 Pole in 2010 Sebring 12-Hour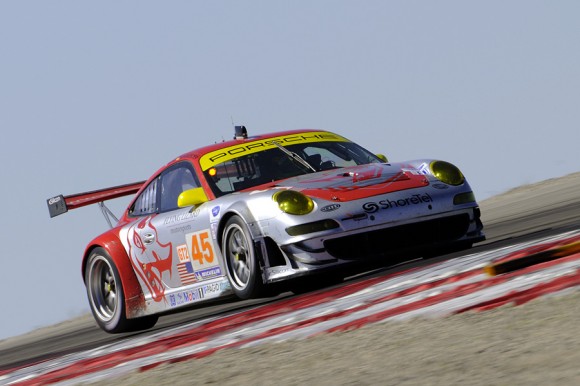 March 19, 2010 – Sebring, Florida - The No. 45 Flying Lizard Porsche 911 GT3 RSR will start on the pole for Saturday's Mobil 1 Twelve Hours of Sebring. In today's combined GT2/GTC qualifying session, Joerg Bergmeister qualified second in GT2 with a time of 2:01.150 on the 3.7 mile circuit. The No. 90 Rahal Letterman BMW, which set the fastest time of 2:00.782, failed post-qualification technical inspection and will start from the back of the grid, moving the No. 45 up to the pole.
Bergmeister commented on qualifying, "We had made an aggressive tire choice and P2 was all that we had today. I was a little surprised that some of the other cars weren't as fast as they'd been earlier in the week. However, based on what we saw during the test days on Monday and Tuesday, clearly the competition has upped the game again. Starting from the front of the grid will help but it's certainly going to be a very tough twelve hours for all of us."
In the No. 44 Flying Lizard Porsche, Seth Neiman qualified 13th. "In the No. 44, we also made a radical tire choice that didn't work out for us in qualifying, but we're confident that we'll have it dialed in for the race on Saturday," added Flying Lizard Chief Engineer Craig Watkins.
For Sebring, in the No. 45 Lizard Porsche, defending ALMS GT2 champions Joerg Bergmeister and Patrick Long are joined by Marc Lieb (Germany). In the No. 44 Porsche, Seth Neiman and Darren Law are teaming with Richard Lietz (Austria).
The 58th Mobil 1 Twelve Hours of Sebring will get the green flag on Saturday, March 20, at 10:30 a.m. ET with live coverage on SPEED TV. Flying Lizard will broadcast its team radio live during the race and update a race blog throughout the twelve hours. For race schedule and details see www.lizardms.com.
Source: Flying Lizard Press Release
Photo Courtesy Flying Lizard Motorsports