Flying Lizard Completes Successful Le Mans Test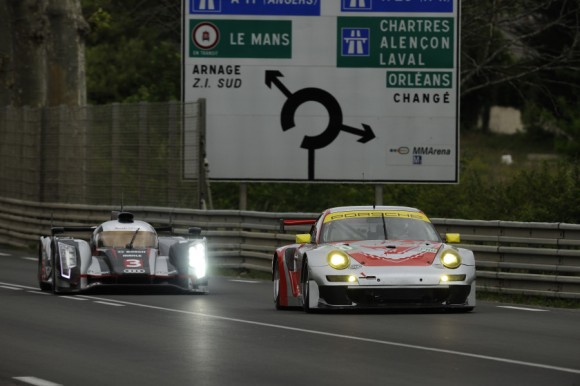 Flying Lizard completed a successful test for the 2012 24 Heures du Mans. The California-based team used the test day to begin setup of the team's two Le Mans entries: the No. 80 Porsche 911 GT3 RSR (in the GTE Pro class) and the No. 79 GT3 RSR (in the GTE Am class). Over the combined two four-hour sessions today, the No. 79 clocked the third fastest time in GTE Am of 4:01.284, and the No. 80 was seventh in GTE Pro with a 4:00.287.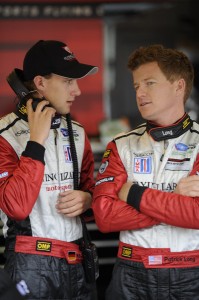 The drivers of the No. 80 Porsche are Joerg Bergmeister (Germany), Patrick Long (USA) and Marco Holzer (Germany). The No. 79 drivers are Seth Neiman (USA), Spencer Pumpelly (USA), and Darren Law (USA). Bergmeister, Long, Holzer and Neiman all attended the test today. Pumpelly and Law were unable to attend due to Saturday's Grand-Am Detroit 200 race, which Law won.
Team Perspective
Joerg Bergmeister, No. 80: "We started with a good balance on the car right out of the box today so we had a solid baseline. Most of the changes that we made throughout the day were positive; right now we are happy with the car. It was hard to get a read on the competition today; we'll have to wait for the qualifying sessions during race week."
Seth Neiman, No. 79: "The test day has gone very well. We had the usual small problems that occur when you ship two cars and many tons of gear across the ocean. The cars are performing well; we still have more to do but we are happy with the results. The team met its objectives: we're now able to go into race week with good information and solid racecars."
Thomas Blam, chief strategist, "We are very pleased with the pace of the 79 car; all signs point to it being competitive in that large class. Since we had only one 79 driver here at the test, we focused on getting him a lot of seat time. In the No. 80, we are looking for more speed; the Pro field is also going to be very extremely tough. We have a lot of work to do before the race but we made some significant progress today."
Flying Lizard at Le Mans
Bergmeister, Long and Holzer are Porsche factory drivers. Bergmeister and Long, both Porsche factory drivers, team in the Flying Lizard No. 45 Porsche in the American Le Mans Series. With Flying Lizard, Bergmeister has won three consecutive ALMS GT driver championships (2008-2010); two of those with Patrick Long (2009- 2010). Bergmeister is five-time ALMS GT driver champion and Long has won the title three times. Bergmeister has competed at Le Mans ten times; five years with Flying Lizard (2007-2011). He won Le Mans in GT2 in 2004 (with Long) and has finished on the podium three times. Bergmeister has also won the Rolex 24 at Daytona three times: GT in 2009, both GT and overall in 2003 and GT in 2002.
Long has competed at Le Mans eight times and has won the race twice in GT (2004 and 2007). In 2011, Long and Bergmeister finished sixth in GTE Pro in the No. 80 Flying Lizard Porsche (with Lucas Luhr). Among other notable results, Long has won Daytona in 2009, Petit Le Mans three times (2005-2007) and Sebring in 2005.
Holzer, also a Porsche factory driver, will join the Lizards in 2012. This is Holzer's third Le Mans: he finished third in GT in 2010 and eighth in GTE Pro in 2011. In the ALMS, Holzer pilots the No. 44 Flying Lizard Porsche with Seth Neiman.
In the No. 79 Porsche, Law, Neiman and Pumpelly will team up for the second consecutive Le Mans together in the GTE Am class. In 2011, the No. 81 Porsche was retired at hour 18 due to a mechanical problem; it was running second in class at the time. 2012 will be Neiman's eighth Le Mans entry; in 2005 he finished third in class in the Flying Lizard No. 80 (with Johannes van Overbeek and Lonnie Pechnik). Among his distance race results, Neiman has finished second in class twice at Daytona (2010 and 2004) and second at Sebring in 2008.
Law has competed three times at Le Mans, all with Flying Lizard. In 2009, Law won overall at the 2009 Rolex 24 at Daytona; notable ALMS results include second at Sebring (with Neiman and Alex Davison) in 2008 in the No. 44, second in GT2 at Long Beach and Detroit (with Long) in 2007, and six podiums in 2004 including a win at Mid-Ohio.
For the last six years, Pumpelly has competed in the Grand-Am Series with The Racer's Group. He has won twice in GT at the Rolex 24 at Daytona (2011 and 2006) and finished second and third in 2009 and 2008, respectively. In the American Le Mans Series, Pumpelly has competed in events since 1999. In the 2011 ALMS GTC season, he had three class wins.
For a full gallery of 2012 LeMans testing photos visit Flying Lizard Motorsports web site
Source: Flying Lizard Motorsports