Flying Lizard Announces GT Program for the 2011 American Le Mans Series Season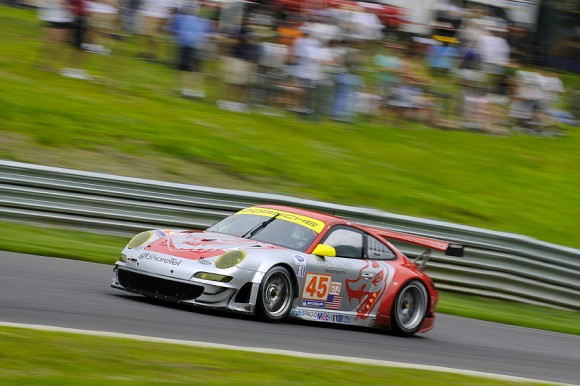 Sonoma, California – November 16, 2010 – Flying Lizard Motorsports announced today preliminary details of its 2011 racing program. The Sonoma, California-based privateer team will return to the American Le Mans Series, fielding two Porsche 911 GT3 RSRs–the No. 45 and No. 44–in the GT class for the nine-race season.
"2010 was a phenomenal year for the ALMS and GT was clearly the place to be," said Seth Neiman, Flying Lizard Team Principal and Driver of the No. 44 Porsche. "We fought a long, tough battle all season, and came away with the drivers' championship. All credit goes to some very tough racing by Joerg (Bergmeister) and Patrick (Long) and an incredible performance by the crews at every single event this year."
Neiman continued, "For 2011, of course we'll be competing again for all of the ALMS GT championships. The ALMS calendar is solid and with some new venues and times it will help keep us all on our toes. Additionally, next year we will increase our emphasis on the important endurance races worldwide."
Jens Walther, President and CEO of Porsche Motorsports North America (PMNA), added, "Flying Lizard and Porsche have forged a great relationship, combining the expertise that both organizations bring to the track; the race results speak for themselves. I am excited to continue our partnership for 2011 and am looking forward to our eighth consecutive season with Flying Lizard competing for the GT championships."
About Flying Lizard Motorsports
Flying Lizard Motorsports has competed in the ALMS GT class since 2004. The team has finished in the top three in the ALMS GT2 drivers' and team championships every year since 2004. In 2010, Flying Lizard No. 45 drivers Joerg Bergmeister and Patrick Long won a hard-fought battle for the GT drivers' championship. In 2009 and 2008, the team swept all ALMS GT2 titles: drivers' championship (Bergmeister and Long in 09, Bergmeister and Wolf Henzler in 08); Flying Lizard won the team championship; and Porsche won the manufacturer championship. In 2009, the Flying Lizard No. 44 Porsche also won the Michelin Green X Challenge championship.
Flying Lizard has also competed in the 24 Heures du Mans from 2005 through 2010, finishing third in 2005, fourth in 2006, and sixth in 2008.
Source: Flying Lizard Motorsports