Flex-Box to Return with Magnus for Daytona and Beyond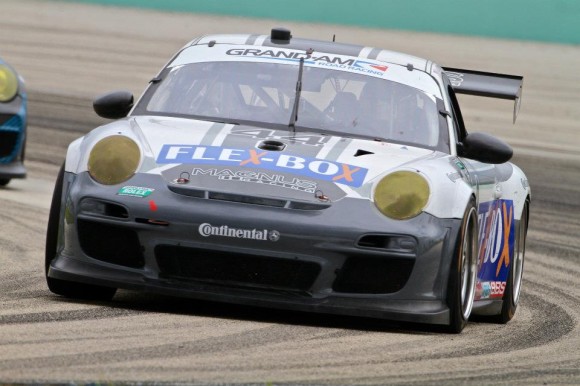 With the cars and stars of the GRAND-AM Rolex Sports Car Series about to hit the track for the first time in 2013, Magnus Racing will return to Daytona International Speedway with a familiar look on the famed no. 44 Porsche GT3 Cup, as Flex-Box will return to the team as a primary sponsor.
Flex-Box, based out of Hong Kong, is a leading worldwide supplier of new and used shipping, storage and reefer containers. The company manufactures and ships containers to customers all over the world, keeping a year round inventory of containers in China, Europe, Australia, New Zealand and North America.
Re-uniting a partnership that has seen the familiar blue logo adorn Magnus cars in multiple events during the 2011 and 2012 seasons, the pair have struck an agreement to run together for North America's signature sportscar event, The 51st Running of the Rolex 24 Hours at Daytona. As the defending GT champions of the race, the team will be running a nearly identical program as last year with drivers and crew, with the addition of multiple-time ELMS GTE Champion Nicolas Armindo .
Beyond adding worldwide exposure for the brand as the reigning GT champions of the event, Magnus will provide extensive guest entertainment and hospitality support. For Team Owner John Potter, this is once again a great opportunity to welcome a fantastic partner to the Magnus brand of motorsport.
"It's great to have Flex-Box with us for Daytona and beyond," stated Potter. "We've run together in several races over the years, and I think it's a great sign that they continue to work with us. We've really enjoyed entertaining everyone from the organization, and it's great to work with a partner who understands that, beyond all of the fun we have, we actually pay great attention to providing a quality and fulfilling experience for our partners."
Flex-Box will adorn the no. 44 Porsche for The Rolex 24 as well as additional races throughout the 2013 season. With a constant inventory around the world, the Flex Box staff can help with container requirements whether a client needs one or one thousand containers in any location.
Source: Magnus Racing