First Porsche To Win Rolex 24 At Daytona Joins 50th Anniversary Overall Champions Display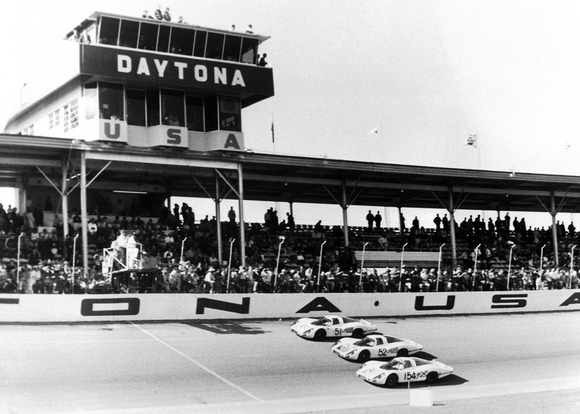 The first Porsche to ever take the checkered flag in the Rolex 24 At Daytona will join the display of past overall Rolex 24 At Daytona championship cars to celebrate the 50thanniversary of the twice-around-the-clock challenge on January 28-29, 2012.
The No. 54 Porsche 907 – driven by Vic Elford of England, Hans Hermann, Jochen Neerpasch and Rolf Stommelen of Germany and Jo Siffert of Switzerland captured the 1968 Rolex 24 – the first of Porsche's record 22 overall wins in the prestigious sports car race.
The No. 54 Porsche 907 joins the rapidly growing field of historic championship cars in the display:
The No. 96 Arciero Racing Lotus-Climax 19B  from the inaugural Rolex 24 in 1962 (then known as the Daytona Continental)
The No. 98 Eagle GTP car from the 1993 Rolex 24
The Preston Henn Porsches from the 1983 and 1985 Rolex 24s
Additional cars will be announced in the coming months as they are secured to be part of this one-of-a-kind display.
Entering the 1968 Rolex 24, Porsche was still seeking its first win in the Rolex 24 and fielded five white, long-tailed Porsche 907s.
As the race neared its conclusion, the lead Porsche 907 driven by Siffert and Hermann was poised for victory but lost 22 minutes in the pits to repair a broken throttle linkage. The unscheduled pit stop cost the team 14 laps and any chance for victory.
The sister Porsche 907, No. 54, with Elford, Neerpasch and Stommelen (who was added to the driver lineup during the race when Neerpasch fell ill), was running flawlessly and toward the end of the race, Porsche racing director Huschke von Hanstein asked Elford if Siffert and Herrmann could drive a few laps in the car so they could be associated with the victory.
Elford obliged to make Porsche's first victory in the Rolex 24 At Daytona truly a team effort with five drivers on the official winner's list for the No. 54 car.
The Rolex 24 At Daytona, the kick-off event to Speedweeks 2012 as well as the international motorsports calendar, showcases the world's best drivers competing against each other lap after lap for 24 hours on Daytona International Speedway's challenging and demanding 3.56-mile road course.
Source: Daytona Intl. Speedway
Photo: Porsche Archive