Farnbacher Loles Racing Porsche Captures ALMS GT2 Long Beach Pole After Ferrari Disqualified; Flying Lizard Motorsports Porsche Will Share Front Row on Grid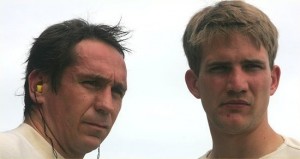 LONG BEACH, Calif. – April 17 – After resigning themselves to second and third positions on the grid respectively, the Farnbacher Loles Racing Porsche 911 GT3 RSR and the Flying Lizard Motorsports Porsche 911 GT3 RSR find themselves one-two in qualifying for tomorrow's race after the pole-sitting Ferrari was disqualified for illegal ride height.
Wolf Henzler, who had qualified the #87 Farnbacher Loles Porsche that he will share with fellow German driver Dirk Werner, is most pleased for his crew, who had been up all night fixing the car after a Thursday practice accident.
"These Farnbacher Loles crew guy are at the end of their energy after being at the track for 36 straight hours preparing, and then fixing our race car. The car was perfect for qualifying, and I was at the limit for my fast lap, coming sideways out of several corners. Everyone on our team is happy about this turn of events," said Henzler.
This moved the #45 Patrick Long/Joerg Bergmeister Flying Lizard Motorsports Porsche 911 GT3 RSR to second place, or alongside Henzler on the front row. After the two factory BMWs, the T-Mobile VICI Racing Porsche 911 GT3 RSR of Richard Westbrook/Johannes Stuck qualified fifth, with the Team Falken Tires Porsche 911 GT3 RSR of Bryan Sellers/Dominic Cicero seventh. The second Flying Lizard Motorsports Porsche of Seth Neiman/Darren Law qualified 10th.
The American Le Mans Series race, which takes the green flag at 7:15 PM PDT Eastern Daylight Time on Saturday, will be telecast on a tape-delayed basis on ABC on Sunday, April 19, starting at 12:30 PM Eastern Daylight Time, and will last 100 minutes – a special length for TV. The ABC broadcast will conclude at 2:30 PM EDT after coverage of the winners circle activities. Both the #45 Flying Lizard Motorsports Porsche and the #18 VICI Racing Porsche will be equipped with ABC network in-car cameras to provide viewers with the best possible Porsche action from the race. Live scoring and American Le Mans Radio are available at www.americanlemans.com for the race.