Falken Tire To Run New 2012 Porsche GT3 RSR In New Season of ALMS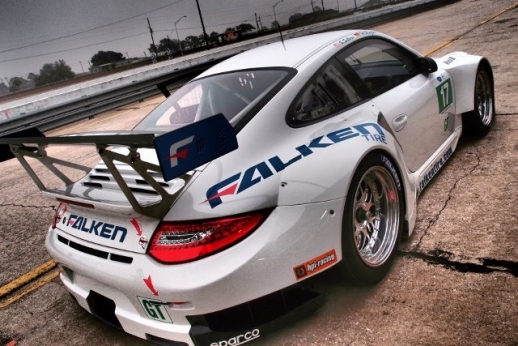 In its quest to extend the momentum generated in the 2011 American Le Mans Series, Team Falken Tire has taken delivery of a brand new 2012 Porsche GT3 RSR chassis. The car was sent to Derrick Walker's race shop in Indianapolis in preparation for the car's assault on the demanding GT class and will make its season debut at the 12 Hours of Sebring on March 17.
Drivers Wolf Henzler and Bryan Sellers will return to pilot the car, which is one of only four new race-designated Porsches in the U.S. The veteran duo secured two wins for Team Falken during last year, at Mid-Ohio Sports Car Course and on the streets of Baltimore.
"The new chassis makes us again one of the few teams in the world to have one of these incredibly sophisticated race cars, and we fully intend to take advantage on what we learned last season as we aggressively push ahead," stated Andrew Hoit, Falken Vice President of Marketing. "We have shown the competition and our customers the versatility of our Falken Azenis products by winning on both wet and dry track surfaces, and demonstrated that Falken means business when it comes to sports car racing. We'll prove it again this year and continue to move forward in the rankings."
The top model of Porsche Motorsport's customer racing vehicles is termed "a technically mature" race car, according to Porsche officials. However, the 2012 GT3 RSR features extensive modifications, including flared front- and rear-wheel arches as well as new intakes on the sides to provide better air flow to the engine.
"The car performed extremely well during the Winter Test," declared veteran road racer Sellers, who begins his fourth year as a Falken team driver. He will again partner with Porsche Works driver Henzler and Team Manager Walker, who starts his second year as head of the race program.
"Clearly, expectations run high throughout the team, based on our strong showing last year and fourth place finish in the GT points standings," added Nick Fousekis, Falken Director of Motorsports and Consumer Events. "Team Falken was successful in 2011 as a result of brilliant race strategy by Derrick and the tremendous driving efforts of Wolf and Brian, and we fully intend to leverage that teamwork with this new race car as we commence our third full season of race competition."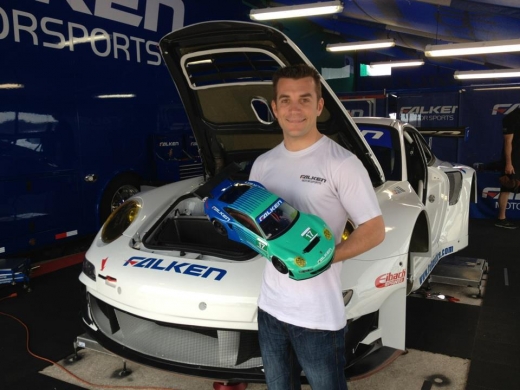 In addition, Falken will vigorously support its motorsports involvement with numerous marketing strategies, said Hoit. "Last year, Falken pioneered a series of unique contests and customer activations, and we will continue such innovative strategies as we prepare another sweepstakes and other programs this year."
Falken Azenis race slicks will again be used on the Porsche, updated through rigid research and development during the off-season. Also joining Team Falken this year will be HPI Racing, manufacturer of highly sophisticated radio-controlled (RC) products.
Source: Falken Motorsports