Enter to Win the Porsches and Help Support Camp Boggy Creek

Could you imagine winning not one, but TWO brand-new Porsches with a donation that helps the children of Camp Boggy Creek?
To ENTER NOW to win the TWO Porsche vehicle prize pack, simply visit www.wintheporsches.com or call 855-946-8436 and make a tax-deductible donation to help deserving young children.
Plus, EXCLUSIVELY FOR 9 MAGAZINE READERS, when you use Promo Code 9M1411B when entering, you'll get 3 FREE Bonus tickets your order!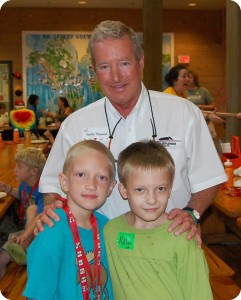 HELP FOR DESERVING CHILDREN
Camp Boggy Creek is a year round medical camp for children ages 7-16 who are facing chronic and/or life-threatening illnesses. It is GRAND-AM Road Racing's and Hurley Haywood's charity of choice. Your fully tax-deductible donation will fund a grant to benefit Camp Boggy Creek, which will be provided by WorldCause Foundation (the sponsor of this giveaway). Plus, your donation will automatically enter you to win BOTH Porsche vehicles – TAX FREE!*
THE CARS YOU CAN WIN
The jaw-dropping, 435hp 2011 Hurley Haywood Edition Porsche GT3 will rock your world! Power-packed with a 3.8 liter, 6-cylinder boxer engine, this road rocket accelerates from 0 to 60mph in just 4.0 seconds!
As you sit behind the wheel of this one-of-a-kind automobile, you'll be the envy of your neighbors. That's because not only is it the fastest GT3 to date, but it's been autographed by racing legend, Hurley Haywood, and enhanced with unique and stylish features like red racing grills, sleek red rims, racing-style seats and more. 
The second car of this TWO car prize pack is the 2011 Porsche Cayenne S Hybrid. Its supercharged V6 leaves other SUVs and hybrids eating dust (0-60mph in just 6.1 seconds!); while its 34-kw electric motor, leather seats and 59.7 cubic feet of cargo space make it a cost-saving, comfortable and spacious choice for transporting your family on road trips or just running to the grocery store.
But that's not all! The double prize package also includes a live, one-on-one performance driving lesson from Hurley Haywood!
ENTER NOW by visiting www.wintheporsches.com or calling 855-946-8436. And don't forget to use Promo Code 9M1411B
This giveaway ends Saturday, Oct. 15, 2011 — so your time is running out! ENTER NOW by visiting www.wintheporsches.com or calling 855-946-8436. And don't forget to use Promo Code 9M1411B to get 3 FREE Bonus tickets with your $20 Donation!
*Tax-Free applies to cash paid on behalf of winner for IRS withholding requirement equal to 25% of the grand-prize value; depending on winner's situation, additional taxes may be owed.