Early Christmas Present – Porsche 2012 Calendar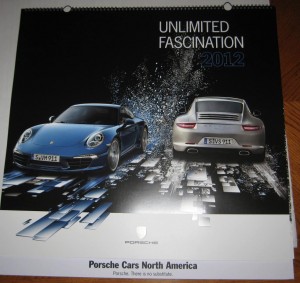 Oh what fun it is to receive gifts, especially when they are Porsche related! This one came in the mail yesterday and was a great surprise! It's the 2012 Porsche Design Drivers Selection wall calendar. The sheer size of this calendar makes it so interesting – it's like a having 12 Porsche posters with the dates on them! The 12 monthly themes reflect the core philosophy of the Porsche brand. The calendar also comes with an exclusive collector's coin. (which I'm not sure what to do with yet) This is going up on my wall right now!
Looking back we definitely should have included this item on our 2011 Holiday Gift Guide – it retails for only $60 and will certainly make any Porsche enthusiast smile…It did for me!
Special thanks to the team at Porsche Design Drivers Selection for this wonderful gift and for all of you searching for that perfect last minute gift, head down to your local Porsche dealership parts department and get the 2012 Porsche Calendar (WAP 092 001 0C) or order it online from PDDS directly.