Driver's Selection by Porsche Design Announces Cyber-Monday Sale
We are not even through "Black Friday" but now is the time to consider "Cyber-Monday" sales. Driver's Selection by Porsche Design has announced that it will offer some items at specially discounted prices on Monday, November 26 in it's "Cyber-Monday" Sale.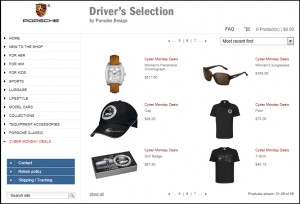 9 Magazine is providing our readers with an exclusive preview of Monday's specials.
There are 10 pages of items at reduced prices!
Keep in mind that the "add to cart" feature goes live on Monday at 9:00am est. and ends Tuesday – 3:00am est. But act quickly since items are limited and available on a first-come, first-serve basis.
Earlier this week, 9 Magazine put out it's               2012 Holiday Gift Guide, and some of the items in the guide will be on sale this monday! Now is the time to take advantage of the savings, and get your Porsche enthusiast the items they really want this holiday season!