Drivers Chosen For The 911 GT3 R Hybrid For Petit Le Mans at Road Atlanta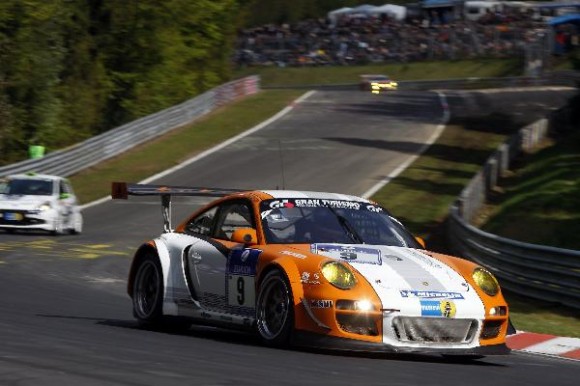 Stuttgart/Atlanta – August 25, 2010 – Porsche factory drivers Timo Bernhard (Germany) and Romain Dumas  (France),  along  with  former  Porsche  factory  and  current  Audi  pilot  Mike  Rockenfeller (Germany)  -  winners  of  this  year's  24  Hours  of  Le  Mans  -  return  to  the American Le Mans Series (ALMS)  as  teammates  in  the  Porsche  911  GT3  R  Hybrid  for  the  October  2  Petit  Le  Mans  race  at Road Atlanta.
The  innovative  Porsche  911  GT3  R  Hybrid  features  two  electric  motors  on  the  front  axles,  each developing 60 kilowatts to supplement the 480 horsepower normally-aspirated rear-mounted engine.  At  the  1,000  mile  or  ten  hour  race  (whichever  comes  first)  which  serves  as  the  finale  for  the American Le Mans Series season, the Porsche 911 GT3 R Hybrid will not be eligible for points, as hybrid technology is not yet included in the GT regulations.
"Our  priorities  are  to  further  develop  the  hybrid  technology  and  to  optimize  the  fuel  consumption under racing conditions. Nevertheless, I'm very interested to see how we compare to the GT2 cars," says Timo Bernhard.
"Nowhere is the competition in the GT segment as hard as it is here in the USA," adds Dumas. As a driver pairing, Bernhard and Dumas have already notched up many historical victories, including the ALMS title in the LMP2 prototype class in 2007 and 2008, the overall win at the 2008 Sebring 12 Hours, as well as three overall victories at the Nürburgring 24 hour race from 2007 to 2009. In January, Rockenfeller claimed victory in a Porsche-powered Daytona Prototype at the 24 Hours at Daytona race.
The Porsche 911 GT3 R Hybrid, which demonstrated the potential of its groundbreaking technology over the first 22 hours and 15 minutes at this year's Nürburgring 24 hour race and led the overall classification   for   more   than   eight   hours,   exemplifies   the   philosophy   of   "Porsche   Intelligent Performance". Under braking, the 911 GT3 R Hybrid converts kinetic energy into electrical energy and stores it in a flywheel that spins up to 40,000 rpm. During acceleration, this energy is delivered to the front wheels, supporting the combustion engine. This leads to a reduction in fuel consumption, increasing the cruising range and lessens the need for refuelling pitstops.
The 911 GT3 R Hybrid race car is one of three different hybrid technologies from Porsche, and joins the Full Parallel Cayenne S Hybrid and the 918 Spyder Plug-In Hybrid concept recently announced for production.
Source: Porsche Press Release
Photos Courtesy PCNA