Desire du jour: The Frankfurt Flyer- A Glockler VW Porsche Inspired Racer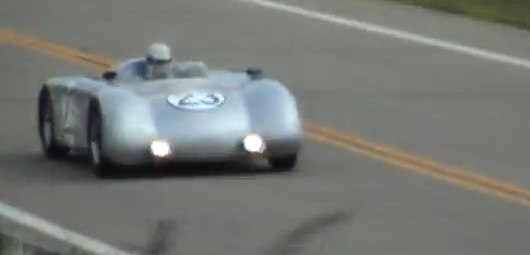 The longer I am a part of this community, the more great stuff I find to lust after.  Since the first moment I laid my eyes upon this Glockler Spyder-esque home-built speed machine, I knew I had to have something like it.  Chris Runge not only desired this machine, but he also thought it up, built it nearly from scratch, and drives it regularly.
Seeing the potential in an otherwise unused Formula Vee chassis, Chris took about rebuilding it to be mechanically sound, improving the engine and transmission along the way.  Using a 912 crank and rods, a 58 VW case, and 66 beetle pistons, a hot and simple little stroker motor was built, producing an estimated 70 horsepower.
Chris has stated that he is willing to create another two bodies from his homemade buck before retiring it. Whether you want a lightweight body to hang from your ceiling, or to attach to your own vintage-look homebuilt Porsche/VW special, you had better act quickly!
Chris has documented the build at his website "The Motoring Journal" and you can read all about it from the links provided here:
Frankfurt Flyer  Part 1 , Part 2 , Part 3 , Part 4 , Part 5 , Part 6 , Part 7 , Part 8 , Part 9
Source: Youtube