Countdown to Porsche Parade 2011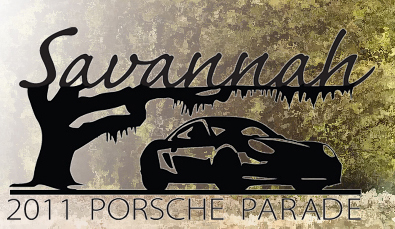 2011 Porsche Parade July 31 – August 6, 2011
The Porsche Parade is the PCA's annual convention. It is a week long extravaganza of car events, tech sessions, social events and FUN. Whether you like to autocross, rally, tour or concours, there is plenty to do and see. Attendance is roughly 2000 people, most of which arrive in their beautiful and much loved Porsche automobiles. In addition to all these fun activities, the Parade is a great family vacation. It provides you with the opportunity to visit a different area of the country each year, as well as the chance to catch up with all your Parade friends that you only see at Parade.
This year the Porsche Parade is being held in Savannah, GA, a place rich in history, character, an natural beauty. Founded in 1733, Savannah has been one of America's favorite destinations. Located in the heart of coastal Georgia's Lowcountry, it is a city of rare natural beauty – of azaleas in bloom and stately oaks draped with Spanish moss. These landscapes have been lovingly enhanced by two centuries of manmade splendor, from her distinctive park-like squares and cobblestone streets to the magnificent architecture of her storied antebellum homes and churches.
There will be numerous tours to local attractions and plenty of opportunities to socialize with friends new and old. The Parade is the best of PCA all in one action packed week. We hope to see you there!
For more information about the 2011 Porsche Parade, please visit: Porsche Parade 2011