Could This Be The Production Version of The 918 Spyder?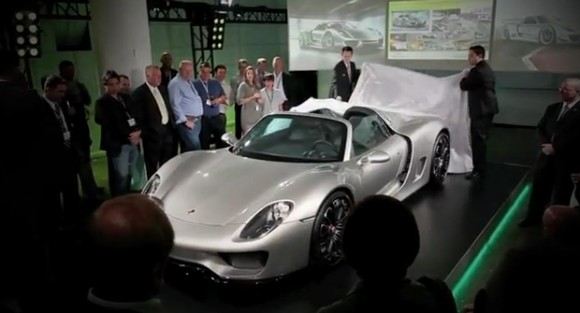 Could this be the production version of The 918 Spyder unveiled in a private showing in NYC?
A new video has surfaced on youtube that shows the unveiling of a 918 Spyder to a private showing. It is being reported by Car&Driver and other sources, that this very well might be the Porsche 918 Spyder in its production specification. Shown in this very well produced video, the 918 Spyder is revealed to small crowd of what is claimed to be the future owners.
In the past, Porsche has held private events for the 918 Spyder like the one we covered back in August of 2010, so it no real surprise that this is going on behind the scenes. This one appears to be a similar event, with a more refined version of the supercar, and a very well produced almost official looking video.
A few key details on this Spyder give credit to the theory that this isn't simply an evolved version of the 918 Spyder concept that debuted at the 2010 Geneva auto show, but possibly the final production version. First off, if the car in the video was a prototype version, it would have the exhaust pipes mounted on the side as all of the prototypes had. This is not the case with this car. You can clearly see the side quarters and absence of exhaust pipes. It's difficult to see the top of the motor, but if the pipes are not on the side we are assuming they are on top. Secondly, this version has marker lights integrated into the sides of the front bumper.
However the recent press photos of the 918 in Martini livery, and the 918′s testing in Spain, do not show the obivious air intakes in the lower quarters and show different versions of the side markers in intergrated into the rear bumper. Some are placed on the sides, some are placed below the tail lamps. Which could mean that this video was shot before the release of the Martini photos and is not the final production version, or shot after the official Martini photos and Porsche provided the press with older photos and changed the design once again. We believe it's the former. One way or the other, its pretty exciting stuff, and we looking forward to more official announcements.
Take a look at the video and see for yourself!
SEE THE VIDEO HERE:

Source: Youtube [VIA Car&Driver]