Champion Porsche to Become "LEED" Gold Certified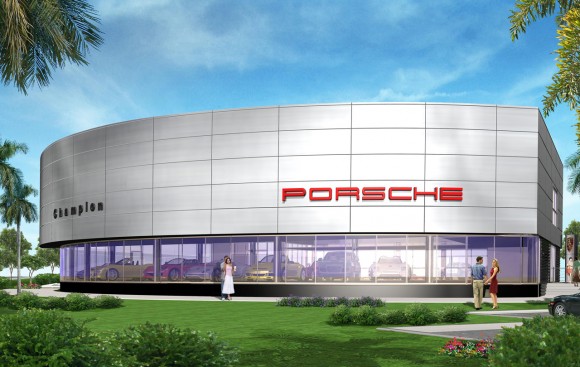 Champion Porsche in Pompano Beach Florida has proposed building a new showroom at the dealership, and it will be the first LEED Gold Certified "Green" building in Broward County, FL.
LEED Gold is a coveted designation of high-performance green buildings by the Green Building Certification Institute. This world-class facility underscores Champion's commitment to its customers and the environment. The new Champion Porsche Campus is scheduled to open in the Fall 2013.
When Champion Porsche debuts its much anticipated new 8,800 square foot showroom next fall, the new addition to its "campus" will assume its place as one the most acclaimed commercial projects of its kind.
That's partly because automotive showrooms are rarely touted for their stunning modern architecture, yet Champion Porsche's new showroom has been designed by one of South Florida's most celebrated architects.
But it's also because if all goes according to plan, the new Champion Porsche product showcase will reign as the first Leadership in Energy and Environmental Design (LEED) Gold certified commercial building in Broward County. It will feature environmentally-friendly flourishes such as a "Hydrotech Garden Roof," insulated glazing systems and the latest energy management capabilities.
The building's LEED status is very much in keeping with the longstanding reputation of 25-yearold Champion Porsche as one of the world's premier Porsche dealerships — and the king of the hill, in terms of sales, for all of North America.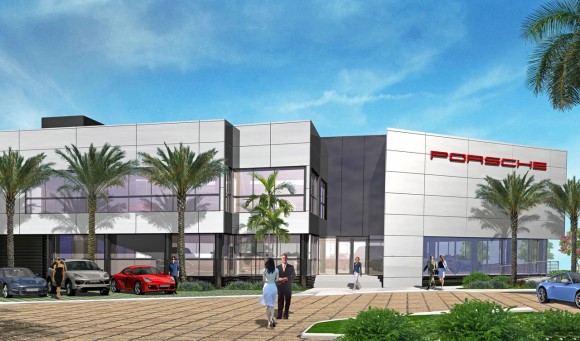 Even more important, it reflects a singular convergence of 21st Century environmental responsibility with the historical fact that 110 years ago, Ferdinand Porsche developed the world's first hybrid vehicle and established himself as an environmentally-minded automotive designer and innovator.
"LEED certification is based on measurement of green building performance standards that include energy efficiency, water conservation, reduction in carbon dioxide emissions, stewardship of natural resources, indoor and outdoor air quality, use of sustainable materials and resources, innovative use of design principles, regional prioritization for specific environmental issues, and awareness of the relationship between the building's location and its environmental impacts," says Gregory Molina, principal of Ft. Lauderdale-based GBM Architecture, P.A., the firm that won the hotly contested competition to design the new building.
"We wanted an architect who understood the essence of the Porsche brand philosophy and who could translate that into a facility that is sleek and elegant, and modern but classical," says Champion Porsche founder and owner Dave Maraj. "We found that in Greg. He did a spectacular job of creating a design that we and our many loyal longtime customers across Florida and around the world could be proud of."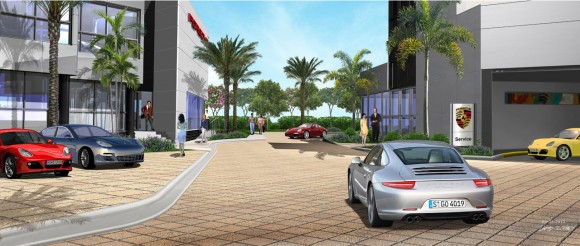 Molina describes his work as "a minimalist, contemporary style that is simple but sophisticated. "It's rendered in neutral tones to allow the Porsche automobiles to be the visual stars of the show," he says.
The permitting process for the new showroom is almost completed and Maraj hopes to break ground by early next year. Construction should be complete by next fall.
"In the meantime, Porsche is introducing two very exciting new models — the 918 Spyder and the new Cayman," Maraj says. "So the timing of our new showroom, and our commitment to the essential design principles that have made the Porsche brand what it is to the world, is very appropriate."
Since Champion Porsche was founded in 1988, it has expanded its operations to establish a major presence in international racing and become an internationally-recognized innovator in after-market sales and service with its Champion Motorsport brand, which began with custom wheels and now encompasses a range of performance products.
"We don't call our complex a 'car dealership,'" he says. "We call it a 'campus.' And we call it that because we offer much, much more than a typical car dealership. And on top of the options we offer, we back everything up with the strongest commitment to customer service that you can find anywhere. We relate to our customers like they're family members, and that's the numberone reason we've been able to be so successful for so long."
With the expansion of its campus to include the new showroom, Maraj says, he hopes Champion Porsche can retain its leadership status among Porsche dealers for another 25 years.
Champion Porsche is located at 500 West Copans Road in Pompano Beach. For more information, call (800) 940-4020 or visit www.champion-porsche.com.
Source: Champion Porsche