Cayman Competitors Ready For Rennsport Reunion
The recent announcement that the Cayman Interseries was invited to participate in Porsche Rennsport Reunion IV, October 14 – 16, at Mazda Raceway Laguna Seca was welcome and exciting news for series teams and drivers.
North Americas premier celebration of Porsche's illustrious racing history, theRennsport Reunion promises to be the biggest race event to date in the brief history of the Cayman Interseries. The weekend offers a unique and rare event that reunites the cars and drivers that together have written Porsches motorsports history during the last 60 years. The Cayman Interseries is an ideal addition to Rennsport Reunion in that it symbolically continues the rich history of many of these famous race cars while spotlighting the performance of the Porsche Cayman S.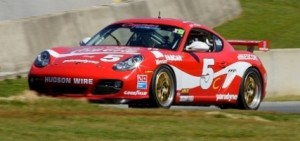 One Cayman Interseries competitor treating the Rennsport Reunion as a must-attend event is Bill Dennis who drives the bright red 'o5 Cayman S that pays tribute to the legendary No. 5 Bob Akin/Coca-Cola Porsche 935s and 962s. Dennis scored his first Cayman Interseries podium finish in 2011′s season-opening event at Sebring in March with second-place showing in that weekend's enduro co-driving with Jack Baldwin.
"Laguna Seca has been on my racing bucket list since attending the Monterey historic races for the last two years during the Pebble Beach Concours," Dennis said. "To be involved with the Cayman Interseries is a thrill and running during the Rennsport as a Porsche racer and street car owner is an honor.""
Another confirmed competitor for Rennsport Reunion is Mark Sandridge and his Team Salad operation with teammate Joe Varde. They debuted their No. 49 Cayman S, which is themed after the IMSA championship-winning 1994 Team Salad Porsche 911 RSR, recently at Road Atlanta in The Mitty race weekend where Sandridge won the pole.
"Team Salad racing chose the right year to get back into racing," Sandridge said. "Are we heading out to the largest Porsche event of the 2011 race season in America? You better believe it! The Cayman Interseries race car is a fabulous car to drive and going to the left coast to race at Mazda Raceway Laguna Seca just plain ROCKS!""
Sandridge puts the legendary Laguna Seca road course in some good company alongside some of the world's other legendary tracks.
Every fan in the racing world has heard about Le Mans, Daytona, Sebring and the famous Corkscrew at Laguna Seca, Sandridge says. Everyone dreams of experiencing the thrill of that blind left-right corner. I have been to Laguna Seca twice and both times you leave with more desire to go back and tackle the rush of the Corkscrew."
Sandridge also knows the Cayman Interseries will be right at home at the premier celebration of Porsche competition excellence and history. "If our series doesn't salute the heritage of Porsche racing with our graphic designs, I don't know how else to do it," Sandridge said.
Source: Cayman Interseries