Cayenne Turbo S Heads To Detroit – Does Porsche Have Any Surprises In Store?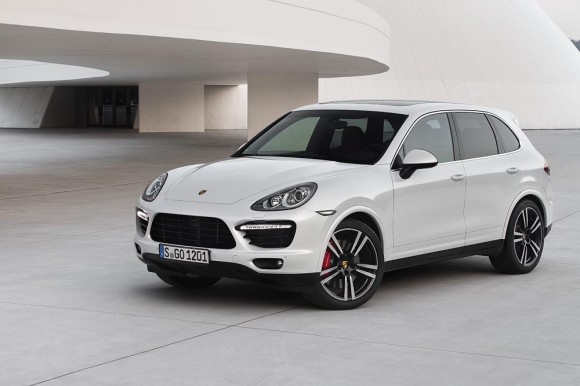 The new Cayenne Turbo S is planned to make it North American Debut at next week's 2013 North American International Auto Show in Detroit. Porsche will unveil the Turbo S with a twin-turbocharged V-8 that puts out 550 horsepower. That's 10 hp more than last year's Cayenne Turbo with the optional Turbo Power Kit.
The new Cayenne Turbo S assumes top position in the Porsche SUV model range. With its complex active chassis, the new Turbo S surpasses the driving performance of many sports cars. All of the basic Cayenne properties such as versatile offroad capabilities, high ride comfort and superior towing power have been preserved without exception. Its NEDC fuel consumption of 11.5 litres per 100 km is the same as that of the Cayenne Turbo, which makes it more fuel-efficient in relation to its engine power. The new Turbo S model has an extra 50 hp of power compared to the Cayenne Turbo, as well as a torque boosted from 700 Nm to 750 Newton metres, and it converts them into faster acceleration and a higher top speed. The sprint from zero to 62mph takes just 4.5 seconds and the SUV accelerates to a top speed of 175mph.
But we can't help to think if Porsche has any surprises up it's sleeve planned for Detroit. For the past couple of shows, Porsche has been clever enough to unveil new prototypes and models to the surprise of enthusiasts. Last year, Porsche unveiled the 991 Cabriolet in Detroit. The rumor mill is churning, but we can't say for sure this time.
It is expected that Matthias Mueller, the president and CEO, Porsche AG,  Bernhard Maier, executive board member, sales and marketing, Porsche AG, Wolfgang Hatz, executive board member, research and development, Porsche AG will all be in attendance in Detroit. With this many of Porsche's top management in one place, something is bound to happen. We will have to wait and see.
The North American International Auto Show continues to be a significant show for Porsche, as the U.S. remains Porsche's largest market in the world. Last year, 35,043 cars were sold in the U.S., representing an increase of 21 percent compared to the previous year.
Photo: Porsche