Buying a Genuine Porsche vs. a Reproduction Porsche
The September/October issue of 9Magazine has an interesting article about a reproduction Porsche 917 that is perfect for track days. The car in the article is very similar to the legendary Porsche 917, but with added safety equipment and it is powered by a Porsche 911 engine. The article got me thinking about what is better to buy, a genuine Porsche or a reproduction Porsche?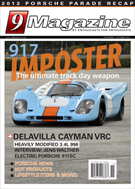 With some Porsche models it doesn't make sense to buy a reproduction Porsche. For example if you found a reproduction Porsche 928 or mid 80's Porsche 911 (non-turbo or special production model) it wouldn't make sense to buy the reproduction as the real thing isn't that expensive. Where a reproduction starts to make sense is with rare and very expensive Porsche models.
If you wanted a Porsche 356 Speedster it is out of many enthusiasts price range with prices often well above $150K. However, a reproduction Porsche 356 Speedster can be had for under $20,000. This makes the reproduction in the reach of a larger number of enthusiasts that would love to own the real thing, but just don't have the financial means to make it happen.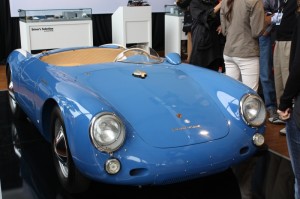 Another popular Porsche reproduction is of the Porsche 550 Spyder. The iconic Porsche 550 Spyder is one of the most lusted after Porsches to ever be produced. Jay Leno and Jerry Seinfeld own real Porsche 550 Spyders and having seen Jerry Seinfeld's up close I can attest that they are beautiful machines. With prices of genuine Porsche 550 Spyders often in the millions and the fact that they don't go on sale very often a reproduction is the only choice for most enthusiasts.
Racing Porsche variants, like the Porsche 917 and Porsche 935, are also out of the reach for most of us. Genuine racing Porsches (especially those with a rich racing history) rarely go on sale and when they do they fetch $100K on the low end (for a car that isn't quite as sought after) and often go in the millions. So, if you want a racing Porsche a reproduction is the only way it is within reach for most of us (although even the reproductions can be pricey with the Porsche 917 replica in the article costing about $100K, but that is less than the millions that the real Porsche 917s usually fetch).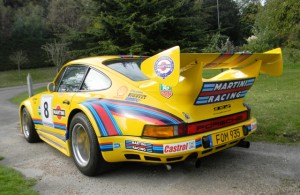 There is one other reason that one might consider a reproduction and it is peace of mind. By this I mean if you drive a genuine Porsche that is worth a large amount of money, you may find it hard to drive it normally and to park it in a parking lot without worrying too much. The thought of a real Porsche worth a lot of money getting a ding in it, is something that would make most enthusiasts cry. However, with a reproduction, while you don't want anything to happen to the car, you won't spend your whole drive worrying that something might happen.
Of course there is a reason to buy the genuine Porsche over a reproduction. It is the same reason why one might buy a name brand over the knock off brand. If you own the genuine Porsche, you own one of the greats that was actually produced by Porsche, with the craftsmanship of Porsche behind the product. No matter how close a reproduction comes to the real thing, it still isn't the real thing.
Whether you choose to own a genuine Porsche or a reproduction, the most important thing is to enjoy driving the car. While with a very valuable Porsche you may not drive it very often, whenever it is driven it should be enjoyed (remember Porsches were meant to be driven). With a reproduction you are probably more likely to take it on the road more often and so it should be enjoyed whenever the open road calls.
David Hurth is a guest contributor to 9 Magazine and Porsche enthusiast that writes more of his thoughts about Porsches at The Sports Car Guys. 
Photos: David Hurth, Historics at Brooklands