Burtin & Ragginger Set For Indy Debut in Friday's Brickyard Grand Prix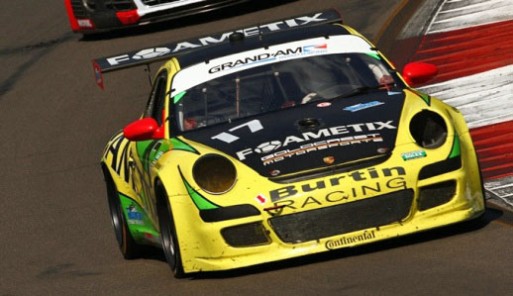 Claudio Burtin and Martin Ragginger, co-driving the No. 17 FOAMETIX®/Burtin Racing with Goldcrest Motorsports Porsche GT3, will be looking to close out the inaugural GRAND-AM Rolex Sports Car Series North American Endurance Championship (NAEC) presented by VISITFLORIDA.com with their best finish in the triple-crown championship's three races Friday at the Brickyard Grand Prix at Indianapolis Motor Speedway (IMS).
The first featured sports car race to be run at IMS in the legendary facility's more than 100-year history, the Brickyard Grand Prix, a timed three-hour race, can be seen live on SPEED, this Friday, July 27, at 4 p.m. EDT/1 p.m. PDT, with a scheduled green flag start time of 4:10 p.m. EDT.
Team owner and driver Burtin and Ragginger are both making their first starts at the legendary Indianapolis Motor Speedway. Burtin also ran in the two-day Continental Tire test on the Indy road course earlier this month and is optimistic for a good showing in Friday's three-hour race.
"We have improved our car every time we go out and I can't say enough about the great job both Martin and Goldcrest Motorsports are doing for our team," Burtin said. "The test was run in really hot conditions, and it looks like the race is going have us back in the furnace again, but you can't let that be a distraction. We can deal with it for three hours and maybe that race distance will be the magic number for us."
FOAMETIX®/Burtin Racing ran competitively in both the season-opening Rolex 24 At Daytona and one race ago in the Sahlen's Six Hours of The Glen. Typical endurance racing issues emerged in both events but the No. 17 Porsche was still looking at a top-10 finish at The Glen only to be sidelined in the race's final hour with a minor fuel-cell fire. Some quick thinking by Ragginger with a fire extinguisher saved the No. 17 and the Porsche is more than ready for Friday's three-hour sprint.
"We were running strong halfway through the six hour and have also been right there in hour three at the Rolex 24 many times so we like our chances at Indy," Burtin said. "I have been turning some personal best laps in the last two races and Martin is always quick. We are looking forward to being part of a little history in the first major sports car race at Indy tomorrow and maybe we can make a little history with our team too with our best ever finish."
Source: FOAMETIX/Burtin Racing