Buckler Behind The Wheel Again For Good Cause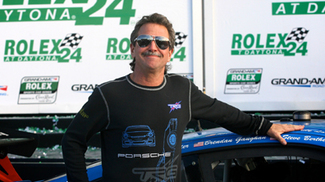 With fulltime GRAND-AM Rolex Sports Car Series and NASCAR Sprint Cup Series efforts as a team owner, how does Kevin Buckler find time to drive a race car? "It's crazy," Buckler said, "but it's for a good cause. That's why I want to do it."
The TRG and TRG Motorsports team owner will suit up for the first time in two years next weekend at Mazda Raceway Laguna Seca, in a two-car endeavor at the closest track to the team's Petaluma, Calif., home base. Buckler last raced in July 2009 at Daytona International Speedway, finishing fifth. His focus since 2005 has been on ownership.
"When I left the car to concentrate full time as a team owner it was at a good time personally," Buckler said. "It allowed our team to really take off and accounted for a lot of success at the track."
Buckler will co-drive the No. 4 Children's Tumor Foundation Porsche GT3 Cup with Daniel Graeff, who has competed in the Rolex 24 At Daytona the past three seasons with several teams. Graeff typically teams with doctors who double as races, who raise money for CTF, through a program called Racing4Research.
Jill Beck, Director of CTF's Racing 4 Research program, has been with it from the beginning. "We use the racing program in several ways to raise the much needed funds for NF research. Our families are a huge source of the funding that comes to the foundation. The racing program is a great platform for them to use in their fundraising efforts and they also get a chance to come out to the track with many other families and have a really fun and unique experience."
Buckler was a top level professional driver during the early days of the organization. He has taken multiple victories behind the wheel, including winning twice at the Rolex 24 At Daytona (including overall in 2003 in a GT car), once at the 24 Hours of Le Mans, as well as being the recipient of the 2002 Porsche Cup.
Buckler, who originally set up his organization just a few miles away from Mazda Raceway Laguna Seca in the 1990s, looks forward to getting behind the wheel of the No. 4.
Through mutual support, Buckler will saddle up again and try to duplicate his team's 2007 accomplishment – a victory by Andy Lally and RJ Valentine.
"As far as the driving, I think I still know my way around the track and always love driving at Laguna," Buckler said. "The hillsides and higher speed corners should play well to the Porsche, and I have a strong teammate in Daniel Graeff who did a great job for our team this year at Daytona.
"I've had numerous other offers to drive but this is for all of the right reasons," Buckler said. "The CTF needs a spokesperson and a team that can help bring awareness to this terrible disorder. We feel like we are in the best position to help them do just that."
Jill Beck agrees and knows how important this effort is in helping find a cure. "We call the children afflicted with this disorder our NF Heroes and those are the names that you will see on Kevin's car this weekend. There is no cure for them yet but so much progress has been made in the last five years we have to keep forging ahead in very way that we can."
Buckler – who recently had knee surgery – and TRG will also field the Rolex 24 winning No. 67 Porsche GT3, for Ryan Eversley and Steve Bertheau. The pair nearly won Saturday's race at Road America, leading on the final lap before the car ran out of fuel. Pumpelly and Bertheau finished third.
Source: Grand-Am Racing