Brumos Racing Taking it to the Streets for Inaugural Detroit Belle Isle Race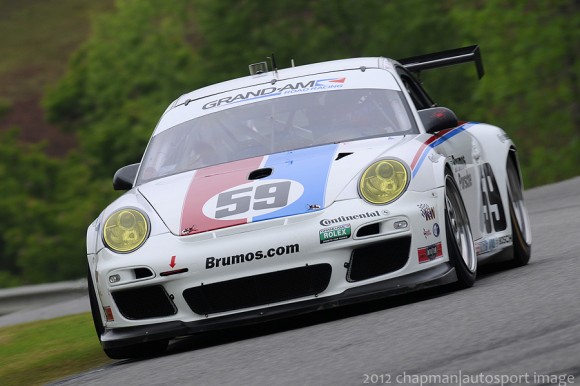 If there's one thing Brumos drivers Andrew Davis and Leh Keen enjoy, it's taking on a new challenge. As the GRAND-AM Rolex Series prepares for its first competition at Detroit's Belle Isle raceway, there will be no shortage of challenges for the Brumos team. While 2011 Rolex Series GT Champions Davis and Keen will be making their driving debut at Belle Isle, Detroit is familiar territory for Brumos legend Hurley Haywood. Haywood joins both of the team's drivers in welcoming the chance to take the Brumos #59 Porsche 911 GT3 out on a new course and in front of a whole new group of fans.
Haywood recalled his experiences there, saying, "Detroit brings back fond memories for me. In 1988 I won the Trans-Am race there when it was still held in the streets downtown. It was run along with Formula 1 and was a very popular event. That year I was racing with Audi and it was the first win of our program, so it was quite memorable. Later, the race was moved out to Belle Isle, and I also raced there and had a 3rd place finish. Detroit is the capital of the American automotive industry and a great city – it is always special to compete in a city with that kind of history."
Andrew Davis is also enthusiastic about the new venue, saying, "In GRAND-AM we normally don't run a lot of street circuits, but seeing Detroit on our schedule is really exciting. Street courses are fun, and we will have the chance to race in front of a new fan base in Detroit. Porsche engines are great on tight street circuits, so we are really looking forward to a good race at Belle Isle. It will be a quick event, so we have to be fully prepared as we arrive and make sure we have a good car. I predict it will be a wild race – street circuits are always just a blast that way, with close quarters and no room for error. It will be the best team that wins, and at Brumos, we feel we are the best and have proven that in the past."
While Leh Keen may not have driven the Belle Isle circuit, he is no stranger to street courses. Fresh off a 3rd consecutive win of the One Lap of America event, Keen is ready to take on his next new challenge. "Having the Rolex Series add Belle Isle to the schedule this year is a real plus," he said. "Although this will be our first time racing there, it will be new to the other teams as well, so that evens the playing field a bit. Last year I raced at Long Beach and Baltimore, two other challenging street courses, so that experience will be a big help for me. It's great to visit a new track and a new city and street courses are just a lot of fun. This race is only two hours, so there will be plenty of action, but I know our guys will have a good strategy and give us a strong car."
The Chevrolet GRAND-AM 200 at Belle Isle will be Round five of the Rolex Series season and will take place on Saturday, June 2nd, 2012. The two hour timed event will start at 5:05 PM ET and is scheduled for live broadcast on SPEED TV beginning at 5:00 PM ET.
Source: Brumos Porsche
Photo: Bob Chapman . Chapman autosport Image