Brumos Racing Sets Driver Lineup for Rolex 24 at Daytona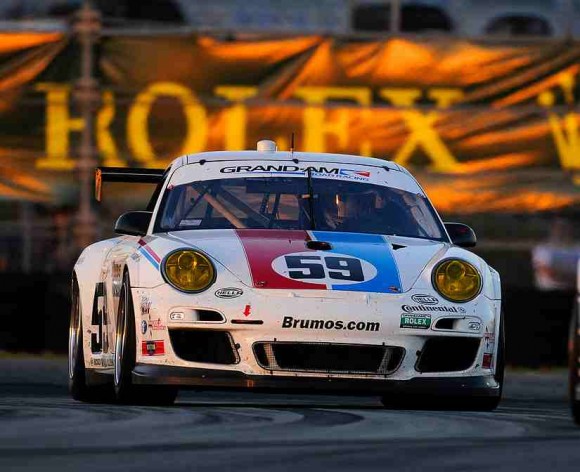 For fans of Brumos Racing, there is no place like Daytona International Speedway as the GRAND-AM Rolex Series kicks off a new season with the iconic Rolex 24 at Daytona. Last year was not only the 50th running of the twice-around-the-clock race, it marked a significant milestone for the Brumos team. Driving legend Hurley Haywood made his 40th and final Rolex 24 start behind the wheel of a Brumos Porsche. Fittingly, Haywood ended the race in Victory Lane alongside co-drivers Andrew Davis, Leh Keen and Marc Lieb, celebrating a Brumos podium finish.
For 2013, Haywood will be seeing the Rolex 24 action from a different viewpoint – that of the Grand Marshal. While it will seem strange to have a Brumos #59 Porsche racing in the Rolex 24 without Haywood behind the wheel, Brumos has no doubt their four drivers for 2013 are up for the challenge. The full-time Brumos driving duo of Andrew Davis and Leh Keen will be back for their next shot at a Rolex 24 win, along with Porsche factory driver Marc Lieb, returning for his 3rd year with the team. Rounding out the lineup for 2013 will be the versatile and talented Bryan Sellers.
Andrew Davis and Leh Keen's combined efforts took Brumos to the Rolex Series team and driver championships in 2011, the team's inaugural year in GT competition. Kicking off the season for 2012, Andrew Davis won pole position in one of the largest GT fields ever at Daytona, ending on the podium. Together, Davis and Keen led 224 laps of that race, as the Brumos #59 topped the GT class in laps led at 281. Brumos went on to earn 4 podiums for the year, with Davis and Keen closing out the season in 5th place in the GT driver standings. Post-season, both drivers were elected to the prestigious Road Racing Drivers Club in acknowledgement of their achievements.
Marc Lieb joined Brumos for their GT debut in 2011, and his contributions were key to the top 5 finish Brumos scored in that race. Last season he again played an instrumental role, as the team bettered their previous year's performance with a hard-fought 3rd place finish. Leib, a 2002 Porsche Carrera Cup winner, has earned class wins at the top endurance races in the world – the 24h Le Mans, 24h Nurburgring and the Rolex 24, as well as the 12h Sebring. He went on for 2012 to claim the World Endurance Championship GTE-Pro Class, and Brumos is honored to have him return for their 2013 Rolex 24 run.
Bryan Sellers, like his fellow Brumos co-drivers, brings a wealth of Porsche experience to Daytona. His first pole position in Rolex Series competition came in 2005 behind the wheel of a Porsche 911 GT3 Cup car. In 2011 he scored his first ALMS victory in his 2nd year with Team Falken, as well as driving a Porsche GT3 to 2nd place at that year's Rolex 24. His success in both series driving Porsches earned him 3rd place in the 2011 Porsche Cup standings. In 2012, he completed his 4th season for Team Falken in ALMS, and was voted most popular driver in the ALMS by the fans. Bryan is sure to be a popular addition to the Brumos lineup as well, and the team is excited to have him on board the #59 Brumos Porsche for the 51st Rolex 24 at Daytona.
Source: Brumos Racing