Brumos Racing Prepared to Stay With Proven Formula at NJ Motorsports Park
When Brumos Racing decided to move to GT racing for 2011, it was hailed as a return to the team's historic roots. Now, with just four races remaining this season, Brumos has achieved success by staying with the same philosophy that made them famous years ago. Peter Gregg was renowned for his relentless attention to detail, and the current Brumos team has followed in his footsteps by focusing on preparation. Their success is reflected in the numbers, as Brumos now leads the Rolex Series GT class, not only in the current standings, but as a consistent performer. Of total laps run in Rolex Series GT competition in 2011, Brumos tops the charts, having completed just under 99% of those laps. Now heading into Round 9 at New Jersey Motorsports Park, Brumos sees no reason to change their focus.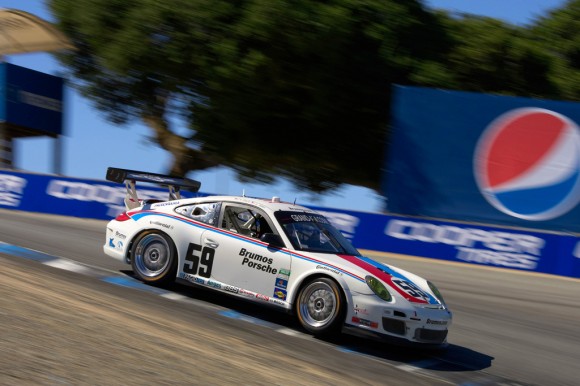 In three years of Rolex Series competition at New Jersey, both of the Brumos drivers have seen consistent success of their own. Leh Keen has never finished out of top five, scoring his first NJMP win in 2009 driving a Porsche 911 GT3. Andrew Davis also competed at New Jersey the past 3 years, scoring two top 5's with a 2nd place podium finish in 2008. In his role as qualifying driver each year, Davis narrowly missed putting his car on the pole, securing two 2nd and one 3rd place starting positions for his team. Their level of individual accomplishments at New Jersey gives both Brumos drivers added enthusiasm for returning in 2011.
"I've really enjoyed racing at New Jersey Motorsports Park the last several years," Davis said. "I have had some great battles there and made it to podium, as well as qualifying on the front row a couple of times. I find it a really fun track to drive – it has a good rhythm. The first part of the track is a bit faster, and then the second part is a bit more technical and will require some discipline. Brumos is doing a great job in finding a setup that works for our car with each track, and I expect us to be strong again in New Jersey. I'm really looking forward to returning there in the Brumos #59 Porsche 911 GT3 and expect to have another great run there."
Leh Keen also enjoys Thunderbolt Raceway at New Jersey, saying, "It is a really interesting track, and also a busy one. I have had some great races there so far, with the win in 2009 and a close shot at the podium last year. The weather will play a factor, as it will be a good bit hotter than it has been in our last few races, but I know our guys will work hard to make the adjustments we need to compensate for that. For me, it is just really great to follow up our second win by traveling to a track where Andrew and I have both had such strong finishes in the past."
Brumos Team Manager Skip Schinsing is pleased, but not totally surprised by the level of success his team has achieved in their inaugural year of Rolex Series GT competition. "Many people have said that Brumos has quietly worked their way to the front, and I think that is true," he said. "All season we have been improving, one race at time, by keeping our focus on hard work and preparation. I could not be more proud of our crew, particularly given how strong the competition is in the GT class this year. Each member of this team has years of experience, and all have worked with Porsches in the past. We are all proud to be part of Brumos Racing and want to honor the Brumos legacy by achieving the same level of success that Brumos has enjoyed for so many years."
The American Red Cross 250 at New Jersey Motorsports Park in Millville, NJ, will be held on Sunday, July 24th. The 2.75 hour race will begin at 1:00 PM ET and is scheduled for live broadcast on SPEED TV.
Source: Brumos Racing