Brumos Racing Celebrates 2011 GT Championship Win at Banquet in Las Vegas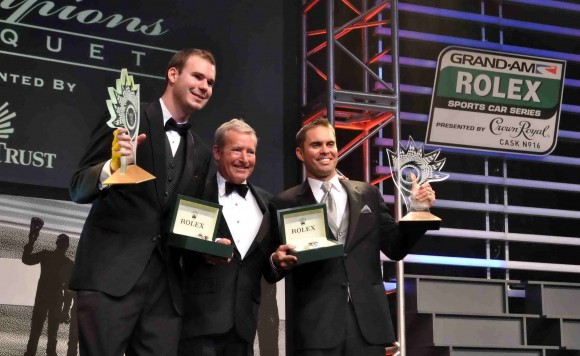 The moment the checkered flag dropped on the final race this season, Brumos Racing was looking ahead to 2012 and the 50th running of the Rolex 24 at Daytona. However, the team took some well-deserved time off to celebrate their GT Championship win by attending the 2011 GRAND-AM Rolex Series Championship Banquet. Brumos took home the Team Championship trophy and drivers Andrew Davis and Leh Keen were crowned as Driver Champions at the event, held at the Bellagio Hotel in Las Vegas, NV.
Dan Davis accepted the Team Championship honors on behalf of his group, saying, "A year ago I made the decision to move Brumos from Daytona Prototypes 'back to our roots' into GT racing. With a great deal of support from Hurley and our customers at our dealerships, as well as Porsche Motorsports, we made our commitment. We were very fortunate to get Andrew Davis and Leh Keen, two of the finest drivers that I know. We enlisted Skip Schinsing as our team manager and he did a fantastic job building our team and leading our group of men and women who were dedicated to our goal of winning races and a championship. Joe LaJoie, our engineer, rounded out the management group. The championship coming down to the final race was the true indicator of the talent in this series. I salute and thank all of our team Brumos folks for their determination, talent and work ethic. You won races and finally our first Championship since 1994 – Great job by all."
For Andrew Davis, accepting his first Championship Trophy was a dream come true. "Thank you, Dan Davis and Hurley Haywood, for having the faith to select me as a driver for the legendary #59 Brumos Racing Porsche," he said. "Brumos Racing is an extremely special team, and its legendary presence in motorsports is no surprise once you have become a part of the family. The entire Brumos Organization is fueled by passion, and I've never seen a more passionate squad than our team this year. This group never quits regardless of the adversity, and they proved that once again at our exciting finale last week. I am so proud to be a member of this team, and it feels very special to be able to share this championship with each and every person involved. You are all champions!"
Leh Keen saluted his competitors in the series and thanked Porsche Motorsports, adding, "Porsche makes the best sports cars in the world. And, you can buy them at Brumos down in Jacksonville, Florida!" He had high praise for his fellow teammates and his co-driver, saying, "The guys on the Brumos crew rock – that final pit stop at Mid-Ohio was awesome and it won us the championship.
Andrew and I used to trade paint but now we share stories, laughter, and a championship. It is a real pleasure to be his co-driver. I thank Dan and Brenda Davis for making me a member of the Brumos family. On behalf of our entire team, Andrew and I present this Championship to you, and our plan is to bring many more championship trophies home to Jacksonville."
Keen summed up the evening well on behalf of the entire Brumos team when he said in closing, "Tonight we celebrate, but tomorrow, we begin the road to the 2012 Championship!"
Source: Brumos Racing