Brumos Porsche to Unveil the Definitive New Boxster on June 27
Launch Event to Include Panel Discussion Featuring Automotive Historian Bill Warner, Brumos Legend Hurley Haywood and the only American Porsche Factory Driver, Patrick Long
At long last, the completely redesigned Porsche Boxster will make its way to showroom floors, and Brumos Porsche will celebrate by unveiling the latest edition of this mid-engine classic on Wednesday, June 27. The event begins at 6 PM and will also feature a panel discussion on the history of the mid-engine Porsche, hosted by celebrated automotive historian Bill Warner, and featuring Brumos racing legend Hurley Haywood and Porsche Factory Driver Patrick Long.
"The Boxster is as pure a Porsche as any model since the 356-1," explains Ray Shaffer, Brumos Porsche General Manager. "Even more than the first generation of Boxster (models 986 & 987) the all-new Boxster evokes the legendary Porsche roadsters that came before it. It is in this spirit that we're treating the 2013 model not as a new Boxster model, but as an all new Porsche. One that is pure, authentic and aspirational as any that has come before it."
Brumos Porsche is proud to have such a high caliber of speakers to help celebrate the unveiling of the new Porsche Boxster. Host Bill Warner has been racing, collecting, and writing about rare and classic automobiles for most of his life, founding the annual Amelia Island Concours d'Elegance in 1996 and earning countless accolades within the industry. Brumos' own Hurley Haywood remains the most accomplished driver in Porsche racing history, if not endurance racing as a whole. Rounding out the panel and fresh from his 2012 Le Mans Experience is Patrick Long, the only American Porsche Factory Driver and three-time ALMS GT2 Driver's Champion. The panel will discuss the history of the mid-engine Porsche, tracing its evolution from the original prototype Porsche 356 -1, to the recent RS Spyder LMP2 racer, and now culminating in the iconic new Porsche Boxster.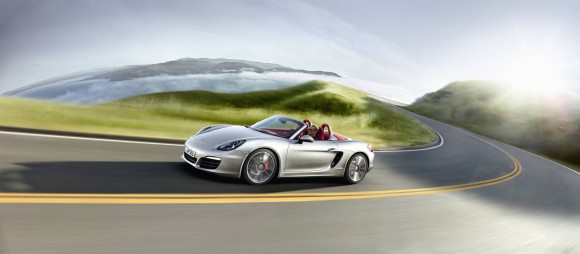 With summer upon us, it's the perfect time of year to get introduced to this totally redesigned roadster. From the fully electrical convertible top, giving you open-air freedom in a mere nine seconds, to the 2.7 liter, 265 horsepower engine, the new Porsche Boxster is both a tribute and refinement of Porsche's rich tradition.
The unveiling of the new Porsche Boxster and panel discussion will start with a reception and a retrospective look at mid-engine Porsches. The event begins at 6:00pm on Wednesday, June 27 at Brumos Porsche and dress is business casual. To RSVP, contact Stephanie at 904-725-9155 or by email before Friday, June 22. If you are unable to attend in person, be sure to follow the live webcast of the panel discussion. Visit the Brumos Porsche homepage, Facebook, and Twitter accounts to stay up-to-date with the latest information on this exciting event.
Source: Brumos Porsche
Photos: Porsche / Brumos Porsche