Brumos Perseveres Despite Many Challenges at New Jersey Motorsports Park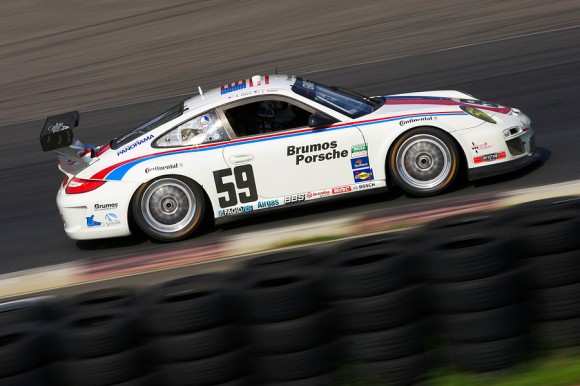 Brumos Racing arrived at New Jersey Motorsports Park for Round 9 of GRANDAM Rolex Series competition with confidence and the momentum of their 2nd win of the season behind them. As the area sweltered under triple-digit temperatures, the crew did their best to prepare for optimal performance under the hazardous conditions. Starting the race from 7th, the #59 Brumos Porsche 911 GT3 was performing well and looked to be in line for a solid top five result.
Unfortunately, an alternator belt failure early in the race brought the car into the pits for repair, putting the #59 down six laps. Davis and Keen both drove strong stints, ending the day in 12th place, a result sufficient to allow Brumos to hold on to their lead in the standings by a one point margin. Andrew Davis assumed his usual role as qualifying and starting driver, but due to the conditions, shorter stints than normal were planned for both drivers. Davis stepped back into the car later to relieve co-driver Leh Keen and close out the race. Describing the problems, Davis said, "The extreme heat was not only difficult for us, it put a lot of stress on the car. When we lost the alternator belt the car overheated and I had to come in right away. Our crew did an amazing job under horrific conditions to get it repaired quickly. To me, that is the mark of a true championship caliber team –  when everyone on the team is willing to do whatever it takes to get the job done. We were dealt a bad hand and it really looked grim, but our guys kept fighting. I am so proud of our team's effort and how they never give up. Brumos is one of the top teams in the Rolex Series, and now we can attack our final three races and see what we can do to bring this home."
Leh Keen joined his co-driver in praising his team, also adding, "We knew this was going to be one of the most challenging races this year for us, but if we had to have a mechanical problem, it was probably better to have it at this race rather than during one where we could have a better shot at a win. We are going to have to really hunker down and have strong finishes from here on out. Sometimes you have a great race like we did at Laguna Seca where everything goes your way, but you also have to go through races like this one where you aren't so lucky. The ups and downs are just part of racing. I am really interested to see where this goes at the end of the season, but for now, we are just concentrating on our next race. We are going back to Watkins Glen following our first win there earlier this year, so we have a lot of motivation and momentum. The difficulties we had this weekend will just make us that much stronger and more determined than ever to keep Brumos out in front."
For Round 10 of the season, the Rolex Series will travel back to Watkins Glen for the Crown Royal 200 at the Glen, a 2.0 hour timed race held on the Glen's short course. The race will be held on Saturday, August 13th, with a scheduled start time of 6:00 PM ET.
Source: Brumos Racing