Brumos Holds Their Ground In Difficult & Dramatic Road America Race
The Grand-Am Rolex Sports Car Series' return to Road America was long awaited and highly anticipated by fans and competitors alike. As the checkered flag dropped on the two-hour race, it ended one of the most memorable and dramatic races of the year. Coming from their first win of the season at Watkins Glen, Brumos was ready to race and eager to take the next step in their championship run.
In a weekend that began with heavy rain and cool temperatures, the #59 Brumos Porsche 911 GT3 showed early promise as Leh Keen posted the fastest time in a pre-race practice session. Andrew Davis followed that up by scoring a season-best qualifying position of 3rd place. As the race began, Davis had moved into 2nd place before a serious wreck brought out an extended full course caution. The yellow consumed over 50 minutes of the two-hour timed race and strategy became the key factor for success. The driver change from Davis to Keen was made under yellow, with hopes to make it to the end of the race with no further stops.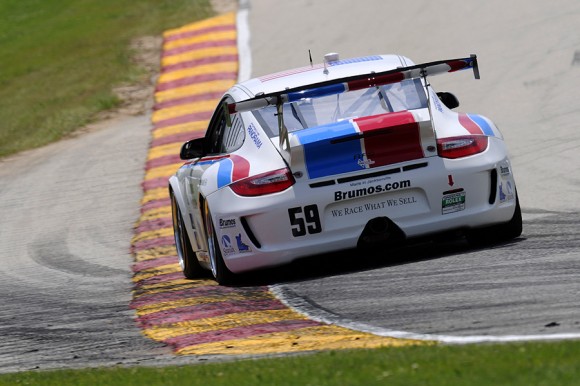 Things proceeded according to plan and Keen led the race for 10 laps, but as no further yellows occurred, one more stop was required. Forced to pit under green for a final splash of fuel, the #59 fell back several positions. In one of the most dramatic finishes of the season, the final lap of the race saw three different GT leaders, as those who had gambled on fuel dropped back, allowing Keen to regain some valuable ground. The 6th place finish was not what the team had hoped, but was sufficient to keep Brumos in 2nd place in the points standings, only four points out of first.
Andrew Davis acknowledged that the race was a difficult one but was quick to note the positives. "We had a great car from the test day on," he explained. "The Brumos team worked really hard to improve the car, and I was proud to have our best qualifying effort yet. The start of the race was great, and we were in 2nd place before the long yellow. From that point on it was the strategy game for everyone. We took a gamble and tried to stretch the fuel. It worked for us at the Glen and brought us to Victory Lane there, but this time it just didn't work out that way. Had we had another yellow we would have been in great shape, but the main thing is that we came away with good points and are still very close in the championship battle. The team did a great job, our Porsche 911 GT3 was competitive, and we led a lot of laps. We will go to our next race with the confidence that we can continue to do well and win races – and that is just what we'll do."
Leh Keen, who led more laps of the race than any other GT driver, found the going tough in his closing stint. "We had a great car in practice and qualifying, but those sessions were in much cooler and wetter conditions. Race day was hot and sunny, and was completely different, so the set up for the race was not quite as good," he explained. "Then, I started having some issues with the clutch, which made it a bit more difficult, but we were still competitive. Unfortunately, on that last pit stop we lost a lot of ground, but several of our competitors gambled and when they ran out of fuel on the last lap it helped us. Now we are in a tight championship run and it is really important to be consistently in the top five every race, but we still came out of this in good shape and held on to 2nd place. We will take the lessons we have learned here, look forward to our next race, and focus on keeping Brumos in the championship battle."
Brumos Racing will travel to Monterey, CA, for Round 8 of the Rolex Series season at Mazda Raceway Laguna Seca. That 2.45 hour race will be held on Saturday, July 9th and will be broadcast by tape delay on SPEED TV.
Source: Brumos Racing