Brumos Closes Out a Successful Indy Debut on the Podium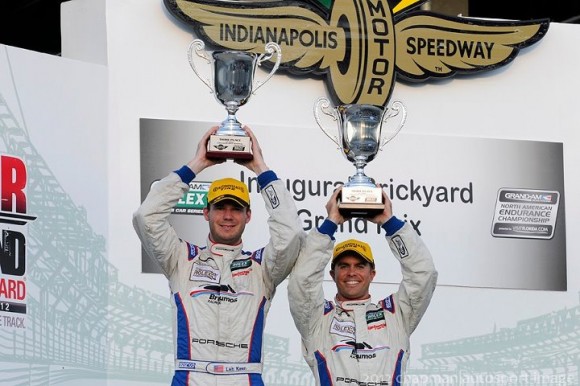 Following years of planning and preparation, GRAND-AM Rolex Series competitors were eager to take to the track for the series' first race at Indianapolis Motor Speedway. Besides the historical significance, the highly anticipated event promised plenty of excitement. There was no shortage of action in the race, which featured torrential rains and numerous incidents, resulting in nine full course cautions. Andrew Davis and Leh Keen managed to steer the #59 Brumos Porsche out of harm's way to end the day in 3rd place, capturing a coveted spot on the Indy podium.
The inaugural Indy race was a dream come true for Andrew Davis, who qualified the Brumos #59 in 4th place. "As an American driver, to be racing at Indy and now to be on the podium here is tremendous," Davis said. "These one-day schedules are really tough, but the teams that are best prepared are the ones who are on the podium. I really commend the Brumos team for all of their hard work and for not giving up on us. The race was really eventful. We hadn't been on the track in the wet at all, so the rain-soaked start was a challenge. It was close-quarters racing and I quickly realized it was going to be about survival. There were treacherous conditions and some really close calls with a lot of cars going off. We had great pit stops and strategy, and Leh did a phenomenal job his entire stint, but especially in the last hour. We thought we had something for the lead car, but racing is so competitive in the GT class that it can go wrong quickly. We were getting ready to make a move for P1 and then, in three corners, we were P3, but Leh was able to save the podium for us, so I thank him for his strong drive. We are excited for the rest of the season – this is the kick-start we needed and now Brumos is on a roll."
Leh Keen, who was running in P2 with five minutes left in the race, was happy to be on his first Indy podium. "It was great day and a hectic day," he said. "I want to thank Andrew for being here for the test earlier this month and putting in all the work when I wasn't able to attend. The car came off the truck in good shape as a result of everyone's hard work and I knew we were going to run strong. This was really a wild race – as soon as the track would begin to dry, it would start raining again, and it was chaos out there. It was a challenge to just keep the car on the track at times. It feels great to end the day on the podium here at Indy and this podium is what our guys deserve. I felt that I had something in the end for the lead car, but the racing that this track created at the end was just unbelievable, so I am definitely happy with our 3rd place finish. I am thrilled to make history here at Indy as part of a historic team like Brumos Racing."
The Brickyard Grand Prix was the final round of the North American Endurance Championship. Brumos Racing finished 4th place in the Team Championship, while Davis and Keen earned 3rd place in the Driver Championship. In overall standings, Brumos gained a position and moved up to 4th place as they prepare to return to Watkins Glen for a 2.0 hour race, which will be held on Saturday, August 11, 2012.
Source: Brumos Racing