Bortolotti Looks Ahead to Porsche GT3 Cup Challenge Canada Event at Circuit ICAR
Perry Bortolotti had a perfect score in the inaugural Porsche GT3 Cup Challenge Canada event at his home track earlier this month, winning both of the weekend's races. He faces the opposite proposition this weekend at Circuit ICAR on the old Mirabel airport site – a track he saw for the first time just two weeks ago.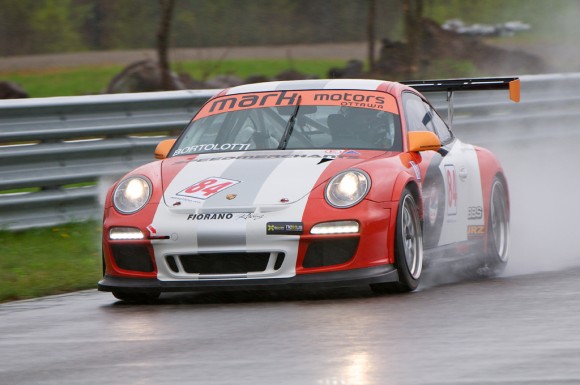 Bortolotti, driving the #84 SpeedMerchants-Fiorano Racing Porsche 911 GT3 Cup car, was impressed with his first look at Circuit ICAR during the day-long test session. "We'd never been to ICAR," explains Bortolotti. "It's pretty much what we expected, with all the concrete surfaces. Since they were reconfiguring for our event, we only ran about two-thirds of the actual track, so the other third will be new. There are some bumpy surfaces and not a lot of visual markers but we were happy with our times. And most of my guys are from Quebec, so I knew we'll be ready for the race.
"It's going to be interesting – there didn't seem to be a lot of passing opportunities on the two thirds of the track that I ran but it looked like they were adding two long straights and a hairpin, so that will afford us some passing points under braking and maybe a hole shot out of the hairpin."
Bortolotti lives just outside Ottawa, less than an hour's drive from Calabogie Motorsports Park, where the first Porsche GT3 Cup Challenge Canada event took place. While acknowledging the advantage he held at the track he knows so well, he's happy that his victories in the first two races of the new series have given his team a renewed sense of confidence going into this latest challenge.
"The Calabogie race weekend was fantastic," said Bortolotti. "But in this racing game, your luck can change quickly – for example, we had a good test in February at Sebring in the IMSA GT3 Cup Challenge by Yokohama but went backwards during the March race and had a disappointing finish. So it was good for me and for the team to get a little momentum and success behind us. We're pumped and have a lot more confidence in our abilities now."
The Porsche GT3 Cup Challenge Canada is gaining momentum as well; getting a new series started, even one with as much promise as this 20th worldwide Porsche Cup, is a daunting proposition. But Bortolotti knows that drivers across the U.S. and Canada are hearing about the buzz the new series is creating – both on the racetrack and in the media.
"It's hard to launch a new racing series – you're not going to get max participation right out of the gate. But certainly, people are starting to see what this product is and I think it will start gaining energy. I expect to see really good car counts next year, which will definitely up the competition level and the "fun" quotient.
"But I can't believe the amount of exposure we've gotten, both myself and the series, from all the multimedia outlets. As the word gets out, more people will be interested in participating and sponsoring the series. It will really grow from here."
The Porsche GT3 Cup Challenge Canada will have two races this weekend at the newly reconfigured Circuit ICAR – Saturday at 2:15pm and Sunday at 1:05pm EDT. The series is divided into three classes; Platinum Cup, featuring the more powerful 2011 and 2010 Porsche 911 GT3 Cup cars, Gold Cup, which includes 2005½ – 2009 Porsches, and Silver Cup for 2002 – 2005½ 996 Porsches. All three classes run on Michelin tires.
Three events comprise the inaugural season of the Porsche GT3 Cup Challenge Canada: May 14-15 at Calabogie Motorsports Park (Calabogie, Ontario), June 3-5 at Circuit ICAR (Mirabel, Quebec) and ending the season on the same racing card as their American counterparts July 23-24 at the Mobil 1 Presents the Grand Prix of Mosport. For news updates throughout the race weekend, competitor regulations and live timing, visit http://www.imsaracing.net
Source: IMSA