BGB Lands Venerable Porsche Duo Of Norman and Pumpelly
Dr. Jim Norman and Porsche standout Spencer Pumpelly announced their commitment to run a BGB Motorsports prepared Porsche 997 Carrera GTS and contest the 2013 Continental Tire Sports Car Challenge Championship, as the driving duo will aid BGB in their defense of last year's Championship victory. After completing a successful 2 day test with the team, as the 2012 Rolex Rookie of the Year, Jim Norman is ready to take on the Continental Tire GS field. He will be paired with long-time friend, coach and co-driver, Spencer Pumpelly.
"We are elated to once again work with Spencer." said BGB team manager John Tecce. "I can't tell you how many people made comment of the unbelievable performance he put on in our green Porsche 997 at Laguna Seca this past September. As a very balanced driver pairing, Norman and Pumpelly can undoubtedly run up front and be a menace to the likes of Rum Bum, Fall-Line, Roush, the Camaros and the Astons."
The all-too familiar green #38 BGB Motorsports Porsche 997 will undergo a livery change and will proudly display the CalciumPro flag during the 2013 season. With Daytona being the 5th anniversary of the team's winning the race overall, BGB will look to solidify their position as the Continental GS Porsche team to beat around the high banks in January 2013.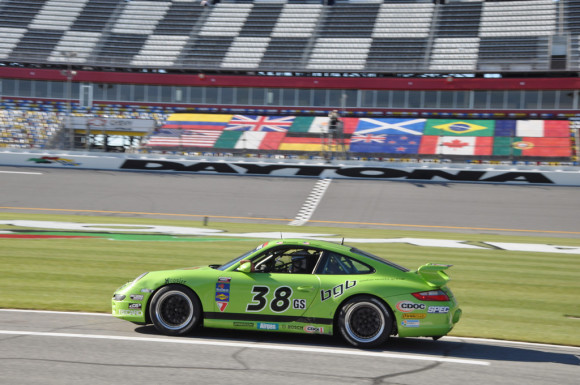 "I'm very excited to join Jim and the BGB guys for 2013." Pumpelly said. "We had a great race at Laguna Seca last year and I'm looking forward to continuing our competitive run throughout 2013. Jim and I have worked well together in the past and now we will get to contest a full season together."
Norman added, "The GS class is one of the most competitive in all of motorsports. Having Spencer as my co-driver and a great car prepped by BGB should make us a contender for the championship. We are all very excited to get to work."
Official Grand-Am testing for the 2013 season gets under way at the "Roar Before the Rolex 24" on January 4-6, 2013. Event specific information with live timing and scoring can be found here http://www.grand-am.com/events.aspx?eid=3498&sid=2. Round #1 of the 2013 season will be a 2.5 hour race on Friday afternoon January 25th at 1:45pm; there will be a 15 minute qualifying session for the race on Thursday at 2:00pm, EST.
Spencer Pumpelly is a 16 year sportscar racing veteran. He is a two time class winner in the Rolex 24 at Daytona having won the GT class in 2006 and 2011. He also has multiple wins in the American Le Mans Series, the Grand Am Rolex Sportscar Series, and the Continental Challenge. Spencer currently lives in Atlanta, Georgia with his wife Lindsay, son Ryder, and when not racing enjoys running, and flying helicopters.
Jim Norman is an airplane racer turned race car driver. He is a veteran of the IMSA GT3 Challenge series and the American Le Mans Series, both in Porsches. In 2012 he switched to the Grand-Am Rolex Series where he campaigned the Audi R8 for APR Motorsports. Driving the Audi earned him Grand-Am Rookie of the Year. Dr. Norman's real job is a surgeon where he is recognized as an expert in calcium metabolism and parathyroid disease.
BGB Motorsports is an ambitious, professional motorsports business. The team's facility is located less than 15 miles from Daytona International Speedway and the headquarters for the Grand American Road Racing Association. The team operates as a customer oriented business, building and supporting cars under the Grand American Road Racing, Porsche Club of America and Sports Car Club of America sanctioning bodies. The team also operates a Porsche retail and service business focusing on parts developed for racing and then resale for 2009 and newer Direct Fuel Injection Porsche 911s and Caymans while they also offer service work for all current generation Porsches. In 2012, BGB Motorsports Drivers John Farano and David Empringham won the Continental Tire Sports Car Challenge Series Driver's Championship; it was this effort that allowed Porsche to finally return to the Manufacturer's Winning Circle for the first time in over 7 years.
Source: BGB Motorsports